The 5th annual WOMB Market — which will feature dozens of women owned businesses — will be held at BAA on Wednesday, November 29th from 6.00pm to 9.00pm.
A spokesperson said, "The holiday shopping season is now in full swing, with Black Friday, Small Business Saturday, and e-Monday initially showing positive growth."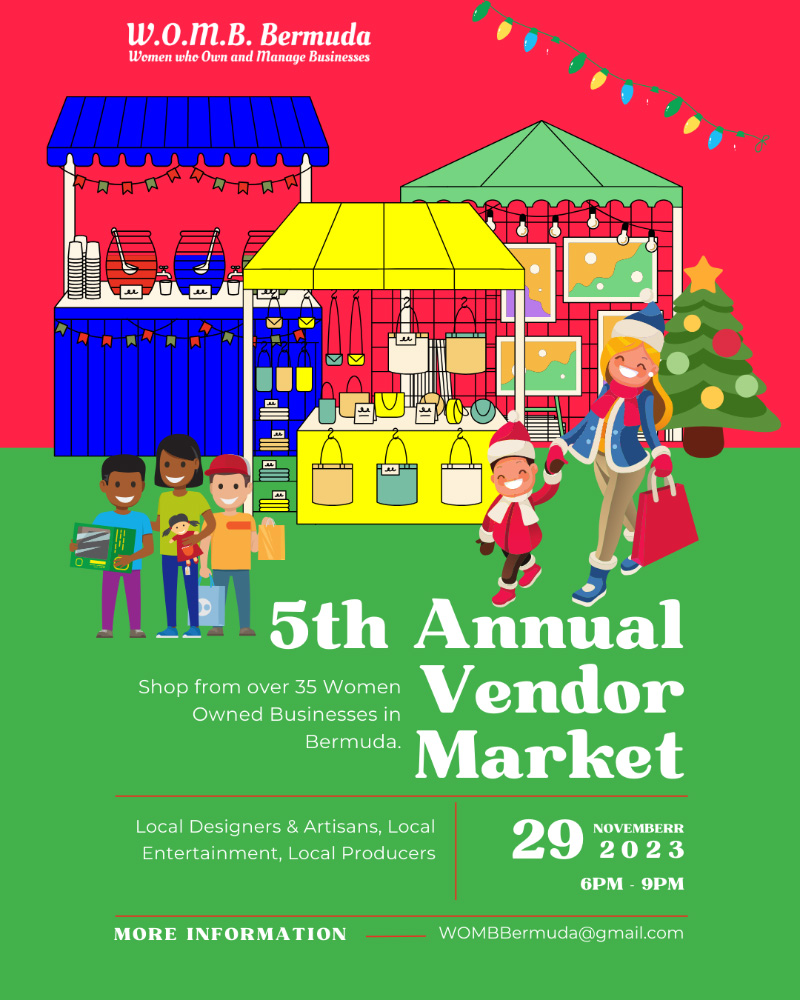 "Women Owned Wednesday, following the trend of Black Friday etc, is the day sanctioned globally to encourage communities to support the female owned businesses in their area.
"Using this concept as the launch pad, W.O.M.B [Women who Own and Manage Businesses] created an annual market on the Wednesday following US Thanksgiving as a central platform for Bermuda's Female Owned businesses. We encourage our community to come out to Bermuda Athletic Association Gymnasium, this Wednesday, November 29, from 6pm to support some of the female-owned businesses in Bermuda."
"They are looking to feature as many as 40 businesses, and are not limited to businesses with a physical product to sell. While a majority of the businesses are offering products for sale, there are a number who offer services, both for individuals and to make life easier for families."
There will also be a raffle draw, where items have been donated by female businesses, and local entertainment.
Stephanie Lee, WOMB Facilitator and Market Organizer, said, "We are pleased and excited to bring this market to the holiday market circuit for the fifth year. Last year, was the first year, post-pandemic. This resulted in slightly lower numbers than we had obtained, pre-pandemic.
"We are looking forward to continuing to grow this market, reaching and exceeding those pre-pandemic numbers. It always makes me excited to see new names apply to participate in the market. This means new businesses established; new entrepreneurs pursuing their dreams, supporting their families, and contributing to the economy."
The spokesperson said, "The market will be held at Bermuda Athletic Association, this Wednesday, November 29th, from 6-9pm."
"Bermuda is encouraged to come out and #ChooseWomen. I am always pleasantly surprised and pleased by the quality of the offerings presented by vendors. By patronizing local businesses, you are helping these women provide for their families; which in turn benefits the country."
Current List of Vendors
The Rosemary Sprig Charcuterie
Island Bliss Bda
Strange Bird
Yunique Nails
Smoke & Elixir Botanica
Bermuda Jump Rope Federation
Pan Bakery
Akaenu Creations
Treasures of Bermuda Tours
Mku Creations
H. Ceramics
TWINKLE
E. L. Robinson Inc.
Vibe Vanity
ZHEN
Always Stitchin
Neeks' Ginger Drinks
Classy Creations
Duch Pops Bermuda
Coco Aroma Candles
In Relation to Immigration
Northshore Gourmet
Street Vybez
Betty's Collections
Sacred Faith Inspired Gifts
R.I.S.E. Motivational Gift Shop
Elite Advisory Services/Ida's Essentials
The Shack
Serenity Scents
Nia Concierge
Yellowbird Bermuda
Candle Sensations
Saraiva Designs
EZAL Studio
Butterfly Crochet & Crafts
Questions & Exclamations
SunKissed Hair Henna & Jagua
The organisers added that "part proceeds donated to a women-centric organization."
Read More About