Teresa Perozzi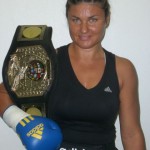 The best female boxer in Bermuda's history, Teresa Perozzi is a WIBC and NABC middleweight boxing champion who has been ranked as high as 5th in the world.
She attributes her interest in boxing to her grandfather, Farrell Quinlan, who held the middle weight boxing championship title at Notre Dame for three consecutive years [1939-1941]. In his entire boxing career, Mr. Quinlan was never knocked out.
Born on December 31, 1973, she obtained a BA in Business Management from the University of Tampa in 1996.
Her first boxing match was the Teachers Rugby Club amateur 'Fight Night' in Hamilton, Bermuda. In 2002, she moved to Los Angeles, and while in LA, Ms. Perozzi took up boxing seriously and found that she shared her grandfather's passion for the sport.
From the beginning, Ms. Perozzi showed promise as a professional boxer. She accumulated an 8-2 record as an amateur and then made her professional debut on March 21, 2003 in Las Vegas at the Aladdin Casino. With little more than a week to train for this event, she turned in a remarkable performance against the hometown favorite, Nicole Conant, winning in a split decision.
Ms. Perozzi's talent caught the eye of Laila Ali, the daughter of legendary boxer Muhammad Ali. Ms Ali invited her to become her sparring partner.
Her boxing career has seen her fight in Bermuda, Germany, Sweden, Trinidad & Tobago and the United States.
On September 23, 2005, Ms Perozzi defeated Scroller Carrington for the NABC World Middleweight title. She won the belt with a 6th Round TKO victory. February 18, 2006 saw her first defence of the title, which she won by unanimous decision over Martha Deitchman over eight rounds in Bermuda. On July 22, 2006 she defended her title again, and retained it with a hard fought unanimous decision over Roselin Morales. The match took place outdoors at Clearwater Beach, Bermuda.
Her 2007 match against American Yvonne Reis saw Bermuda's only Olympic medalist Clarence Hill serve as referee. On July 24, 2010 she beat American fighter Cimberly Harris in a match during the 'Smashdown' event held at the Berkeley Institute Gym in Bermuda.
Her professional record stands at 7 wins, 3 losses, 1 draw. One win was via knockout, while Ms. Perozzi has never been knocked out in her professional career.
Dabbling in acting, Ms. Perozzi appeared in an episode of Strong Medicine on Lifetime Television with alongside Laila Ali. She also participated in the Bermuda television show 'Dancing With The Stars'. An avid runner, she is a regular in the local road racing scene.
Recently married, she works as a massage therapist and resides in Bermuda with her husband and son Micah.
Click to enlarge images:
The video below shows snippets of Ms Perozzi's match against American fighter Cimberly Harris on July 24, 2010 at the Berkeley Gym in Bermuda, where she won the 6-round bout by unanimous decision.