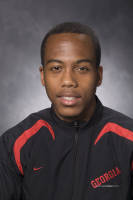 In what was an excellent weekend for Bermudian track and field, three records in total were broken. In addition to Shianne Smith shattering the Bermuda National Heptathlon Record, Aranxta King broke the triple jump record.
Aaron Evans broke a record which was previously held by Steve Burgess for 25 years. The University of Georgia student ran the 800m in 1:47.00 [breaking Mr Burgess's time of 1:47:64] and placing 2nd at the Sec Championships.
Mr Evans time also broke the University of Georgia record of 1:47.13 which was set by Shaun Benefield at the 1995 NCAA Championships.
Veteran runner Steve Burgess, who held the record for 25 years, said:
It's an honour to step aside for the new king! After 25 years, I bow! His rise has been phenomenal and his level of respect for those who paved the way is remarkable. It's an honour to pass the baton.
The son of Whitney Principal Dr. Freddie Evans, and Northlands Deputy Principal Gina Evans, he takes after his mother who is a former 800m All-American runner at Jackson State University, and once represented Bermuda at the Carifta Games.
He attended Warwick Academy till he was 16, then left to attend Cushing Academy in Massachusetts. The 20 year old athlete was previously a semifinalist in the 800 at the 2007 World Youth Championships in Ostrava, Czech Republic, won a silver medal in the 800m at the 2009 Carifta Games and a bronze medal at the 2008 Carifta Games.
In addition to his obvious outstanding efforts on the field, Mr Evans maintains a 3.3 GPA.
Read More About