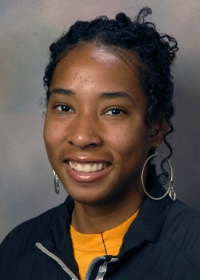 Earlier this weekend, local track and field star Shianne Smith shattered the Bermuda National Heptathlon Record with 5,127 points.
The athlete is presently studying kinesiology at Cal State University, and is due to graduate next month. She has competed all through her college years, winning a multitude of awards and honours. Ms Smith is presently training for the CAC Games and the Commonwealth Games.
A heptathlon is a grueling event in track and field athletics which is made up of seven events; 100 metre hurdles, high jump, shot put, 200m, long jump, javelin, 800 metres.
Competing at the Claremont Classic Meet in California this weekend, Ms Smith dominated the event, placing first in 6 of the 7 events:
1st: 100 metres hurdles – 15.23
1st: High jump – 1.56m
1st: Shot Put – 10.41m
1st: 200 metres-  24.90
1st: Long jump – 5.94m
1st: 800 metres – 2:20.04.
3rd: Javelin –  32.34m
You can view the full results of the meet here.
In what was a banner weekend for Bermuda track and field, two more records were broken by local athletes; with Arantxa King setting a new triple jump record and Aaron Evens smashing a 25 year old 800 metre record.
Read More About