The Premier's Gala Dinner held at the Fairmont Southampton on Saturday night saw hundreds of locals and overseas guests turn out decked in their finest gear. From short cocktail dresses, dramatic full length evening gowns and flowing African garb, the ladies in attendance showed off their best looks, while the men were decked out in their finest black-tie attire (view full photo gallery of the event here).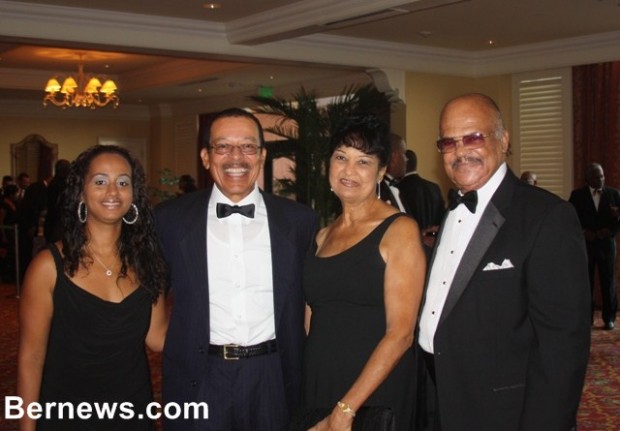 Those in attendance included BDA Leader Craig Cannonier, BDA Hotel Association President John Harvey, businessman Gavin Wilson, CADA President Anthony Santucci, Coco Reef CEO John Jefferis, Correia Construction Boss Dennis Correia, Dame Jennifer Smith, E Michael Jones, Fairmont CEO Norman Mastalir, Hotel Developer Carl Bazarian, HSBC CEO and the Premier`s brother Phil Butterfield, former journalist Ceola Wilson, former national football coach Roddy Burchall, former Police Commissioner Jonathan Smith and many more.
Elected and appointed PLPers in attendance included Deputy Premier Paula Cox, Minister Neletha Butterfield, Minister Derrick Burgess, Minister Glenn Blakeney, Minister Zane DeSilva, MP Terry Lister, MP Wayne Furbert, MP Walter Roban, Senator Kim Wilson, and Senator Marc Bean, with a fair amount of PLP MPs not in attendance. (view full photo gallery of the event here).
With Master of Ceremonies Rock Newman at the helm, the night featured several local acts and performances, with many reports saying the entertainment was excellent. Before dinner, Toni Robinson sang grace by giving an excellent rendition of "Amazing Grace". Veteran comedian Bootsie did a short stint in which he made a few jokes at the Premier`s expense, while another local veteran of the music scene – Gene Steede – treated the crowd to a performance. Former Bermuda Idol finalist McCartney Darrell also sang,  and is pictured below: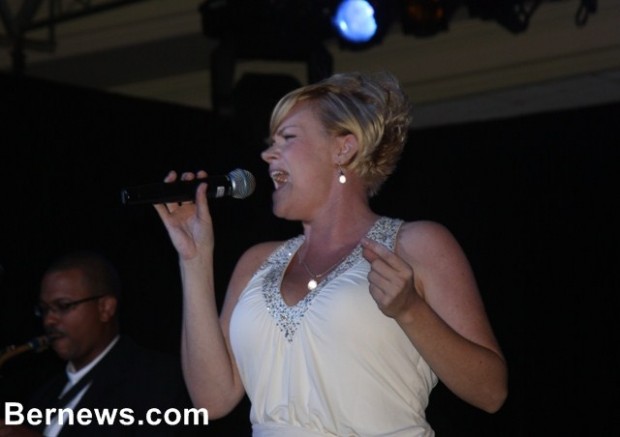 Former talk show host Star Jones and actress Lynn Whitfield, both guests from overseas, read a selection of poetry from Maya Angelou's "Still I Rise" to W E Henley's "Invictus"; all dedicated to either Premier Dr Brown or to his wife, Wanda Henton Brown. They are pictured below, with Ms Jones on the left: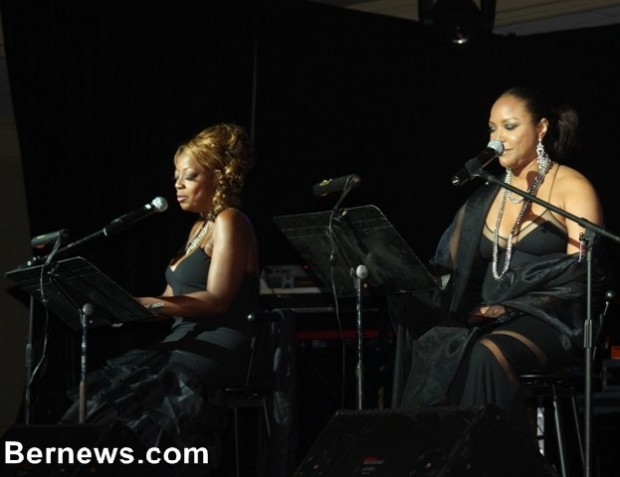 Following these performances and dinner, there was a ten-minute video presentation in which Dr Brown's whole activist history and political life was reviewed, in the new computer age style. The video featured clips from two of Dr Brown's sons, well known PLP supporter Laverne Furbert, ex-Statistician Calvin Smith, Ira Phillip and others; and several segments where Dr Brown explained, from his perspective, his view of his own performance. After that video presentation, Premier Dr Brown took to the stage and made what amounted to yet another farewell speech (read full text of speech here).
After a short wait, the headliner of the event Gladys Knight took over the stage and gave an excellent performance. Towards the end of her act, her older brother one of the original 'Pips" came on and added some fun and antics. The two then combined for a finale featuring one of their big hits.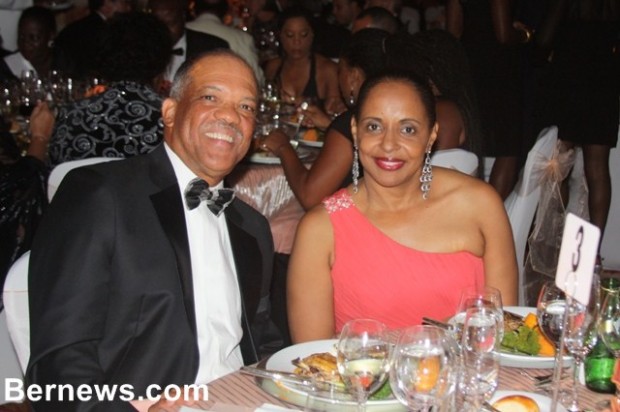 The financing of this event had been a much discussed subject…so how much revenue did this dinner create?
At $500 a plate, with a setup of over fifty ten-seat tables, the Premier's Farewell Gala fundraiser looks to have possibly generated something in the region of just under half a million dollars. All five hundred plus seats were filled – and that alone would produce around $250,000, even discounting for a few dozen tickets being given out free. On top of that, there were eight Platinum Sponsors who each paid $25,000 for the privilege, generating $200,000 between them. The four Gold Sponsors, who paid $10,000, looked to have added bumped that up to $240,000; so the whole night looks to have generated somewhere in the region half a million dollars – before expenses, which one would assume to be fairly high.
Platinum Sponsors at $25,000 a pop included Rock Media, RJL Companies, Public Private Partnership, Island Construction, Dennis & Jane Correria and more. Gold Sponsors at $10,000 a time were Carl and Linda Bazarian, Phillip and Rosalind Butterfield, Mark A Charley and Darlene Richeson & Associates. In addition, John Barritt & Sons and Goslings Brothers, two old-line Bermuda firms, were listed as 'Sponsors in Kind'.
For all our coverage of the "Premier's Farewell Gala Weekend", click here.
Read More About