Late this morning [Sept 20], Bernews visited the shelter that had been specially set up at Cedarbridge Academy which was set up to assist residents for Hurricane Igor. Premier Dr Brown, Minister David Burch, and a small party were touring the facility, and as the Premier was escorted further on, one of the persons sheltering there grabbed Minister Burch – to personally thank him.
Pam Skinner first grabbed the Minister to prevent him walking on, and then took the Minister's hand to shake it while saying: "I want to tell you that your Government workers (she pointed over her shoulder at the Registration table) have been doing a great job. We feel blessed that they have been here for us…..I want to give you my personal thanks for what you have done for us."
Right behind her came Patricia Lewis who said that:"…was grateful for the concern shown for us by the workers." She said that the workers had brought people back to the shelter and had shown humanity by doing that.
The Cedarbridge shelter had been specially set up in the Cedarbridge Gymnasium to take in people who, for one reason or another, needed to be sheltered against the onslaught of Hurricane Igor. The shelter had opened on Saturday 18th, some twenty-four hours ahead of Igor's anticipated strike.
By Igor's end, the shelter had housed a total of 55 adult males, 11 adult women, a toddler, a pre-teen, and a teenager for 69 people all told. By the time we got there, the total count was about 30 with what looked like just two adult females left.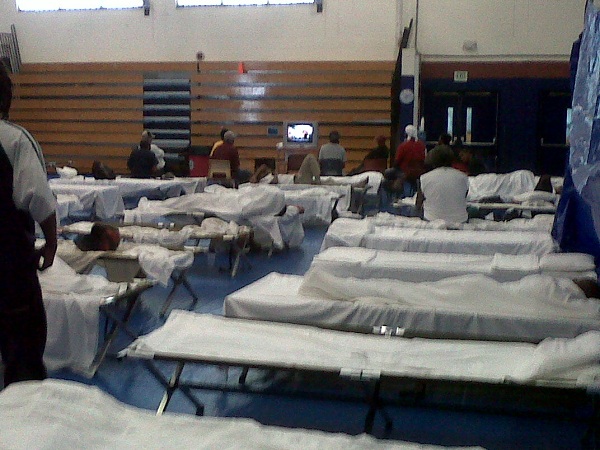 One of the adult males, Marcel Sheppard, said that he had come to the shelter on Saturday night. He said that the food was good and that he'd particularly enjoyed the chicken and mashed potato meal. He was happy to be able to watch TV and really appreciated the shelter; but now that Igor had gone, he was anxious to move on. He asked where the nearest grocery store was.
The shelter had been segregated with males on side of a blue tarpaulin 'curtain' and females on the other. There appeared to be about eight Government workers present while Bernews was there.
As Bernews was leaving, the shelter was being stripped preparatory to its being returned to its normal use. It is believed that this is the first time that the CBA shelter was actually activated and used.
For our live blogging on post-Igor news click here, for photos of videos from Hurricane Igor click here, and for all our hurricane coverage click here.
Read More About