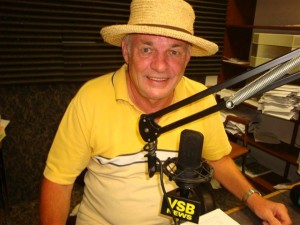 Many people have commended us for our constant coverage over Hurricane Igor, and we greatly appreciate it, however the time has come for us to turn the tables and "tip our hat" to VSB's Chris Lodge.
The veteran broadcaster  – without power – somehow managed to keep VSB's radio broadcasts going during the height of the storm, using a combination of a car battery, candles and a flashlight, while hunkered down in his home.
For safety reasons VSB decided to automate the stations, with cut-ins for storm reports.
Mr Lodge converted his 6-year-old daughter's bedroom into a makeshift studio, equipping it with two computers and more.
When Mr Lodge lost electricity, he managed to keep broadcasting by using power from a car battery, and using candles and a flashlight for vision. The two computers he were using were powered by the car battery and invertor, which was just enough to power up the computers, but not enough for a light.
As Hurricane Igor lashed Bermuda with 85mph winds, Mr Lodge and his makeshift contraption continued to produce radio broadcasts. He was hunkered down in his home for about 18 hours until the early morning hours when the hurricane force winds eased slightly.
He, along with station owner Kenneth DeFontes went out at 5am through the debris strewn streets to the radio station in order to resume normal newscasts, helping to spread essential post-Igor information.
Mr Lodge said "There's a sort of vicarious satisfaction in easing people's fears in doing what I do in covering the many hurricanes we've had." He also said his six-year-old daughter slept alongside him and the makeshift VSB station, completely oblivious to the noises outside.
Read More About