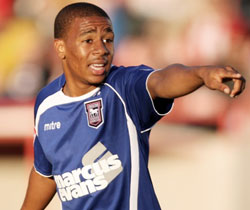 Bermuda's U-20 World cup qualifying team put on an outstanding performance, beating Antigua and Barbuda 2-nil. With this victory, Bermuda will now advance to the next round of the World Cup competition.
Ipswich Town midfielder Reggie Lambe [pictured] scored the first goal in the 68th minute of play. Thirteen minutes later Troy Tucker sealed the deal making it 2-nil for Bermuda.
Gary Darrell, head coach of the Bermuda team was truly pleased with his teams over performance. "Absolutely pleased with the team's performance. Mentally and physically we played better in the second game. We made adjustments for this game; therefore it helped our team performance against Barbuda. The second-half we picked up the tempo, this allowed us to score the two goals in the match. We had a number of opportunities but in the end we scored two goals."
Meanwhile, Coach Darrell was not only pleased with his players, but gave credit to his coaching staff as well. "I must give credit to the coaching team as well, without them this would not be possible. Everyone was this trip played a significant part in order for us to have this victory, and for that I am grateful to be a part of this team."
The team returns home Monday evening from Miami.
Related Posts