Wednesday, October 20th saw Tomorrow's Voices Autism Centre strengthen the skills and knowledge of teachers, para-professionals, learning supports, occupational therapists, speech therapists, parents and others in the education profession when it held the third workshop in its year-long Training Institute entitled "Applied Behavioural Analysis & The Verbal Behaviour Approach". The 2-hours workshop approved by the Bermuda Educator's Council for professional development credits was held at the Bermuda College and saw over 50 eager persons participate.
The in-depth course was facilitated by the new Director of Tomorrow's Voices, Dr. Kimberly Mills. Dr. Mills, who hails from the United States, is an international expert with nearly 20 years of experience working with youth with varying educational exceptionalities including autism, giftedness, emotional disturbances and behavior disorders, learning disabilities, mild, moderate and severe intellectual disabilities, ADD and ADHD, traumatic brain injuries, Aspergers syndrome and more. She has worked extensively with young people with autism and other developmental disabilities in a variety of settings including general education classrooms, therapeutic wilderness schools, residential settings, juvenile detention facilities, court systems and psycho educational programs, most recently in the position of Behavior Analyst in Maui.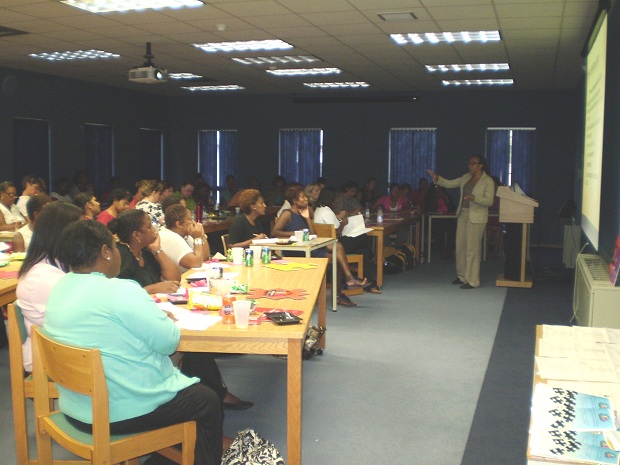 The course allowed attendees to learn about the science of changing behaviour and gain a better understanding of the methodologies involved in the verbal analysis of behaviour that scholarly research has supported as a best practice for the service of youth with autism and other disabilities. Data collection techniques were also discussed. Through the workshop, Dr. Mills brought to the table a wealth of knowledge in working with young people and how to get the very best out of children with disabilities. The course was co-facilitated by Tomorrow's Voices Verbal Behaviour Therapist Mona Wierzbicki.
Tomorrow's Voices Training Institute was launched on August 18th with the workshop entitled "Best Special Education Practices". The next workshop in the series was "Autism 101 – Everything You Wanted to Know About Autism But Were Afraid to Ask." The Training Institute is an exciting collaborative partnership between Tomorrow's Voices, the Bermuda College, the Reading Clinic, and the Bermuda Educators Council.
The next workshop is scheduled to take place in the evening of November 17th 2010 at the Bermuda College and is entitled "Social Skills Training For Youth With Disabilities". This training will analyze the problem of social skills deficits and provide strategies to increase social skills proficiency in youth and adults with disabilities.
Tomorrow's Voices Chairwoman, Mrs. Erica Smith stated that "The workshop was an excellent opportunity for educators to gain a better understanding of Applied Behaviour Analysis and Verbal Behaviour therapy in order to better help children diagnosed with a broad array of developmental and behaviour issues."
One participant stated the presenter had a "wealth of knowledge, excellent questions, and responses" while others were thankful that these workshops were being offered on a monthly basis in order to have continual learning. The courses also qualify for professional development hours for educators by the Bermuda Educators Council. Anyone interested in attending future workshops should contact Dr. Mills at 297-4342 or email tomorrowsvoices@northrock.bm.
Read More About
Category: All