Tomorrow's Voices Autism Centre is aiming to raise awareness of Autism Spectrum Disorders and developmental disabilities by hosting a series of Training Institute Workshops.
The first workshop, titled 'Skill Generalization – What Does That Really Mean?' will take place on Wednesday, February 17 from 6.00pm to 8.00pm at Tomorrow's Voices in the Sunshine League building.
A spokesperson said, "The workshop will provide concrete strategies and tactics to help ensure that the skills we teach children produce generalized outcomes. Highlighting how children may struggle in transferring and continuing communication skills across all environments, people and scenarios both accurately and fluently, which is the hallmark of true mastery of a skill."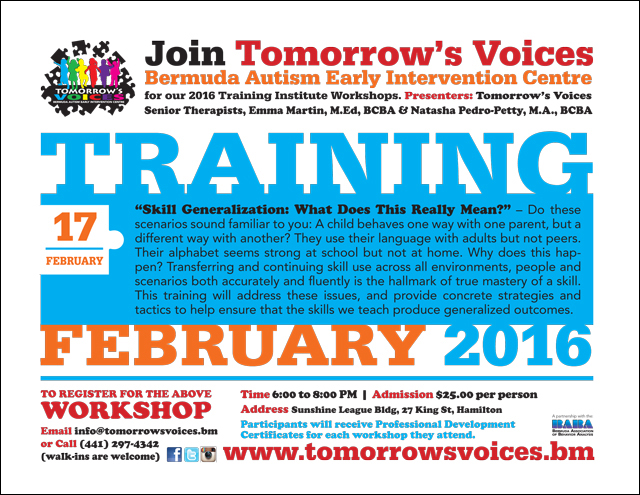 "These include familiar scenarios such as: a child behaves one way with one parent, but a different way with another; a child uses their language with adults but not peers; or a child's alphabet seems strong at school but not at home."
Admission to the workshop is $25 each, and attendees will be provided with a Professional Development Certificate upon completion. All proceeds will benefit the Tomorrow's Voices Autism Centre and the families it supports.
For more information about Tomorrow's Voices, call 297-4342 or email info@tomorrowsvoices.bm.
Read More About
Category: All