Working in conjunction with the Ministry of Education, BASE [Bermuda Autism Support and Education] will be offering a free workshop tomorrow evening [Aug 21] with Emily Rubin, the director of the Educational Outreach Program at the Marcus Autism Center in Atlanta, Georgia, with a second workshop to be held in September.
"SCERTS is a comprehensive educational framework for students identified with social and emotional learning differences including autism," said Ms. Rubin. "The primary goal is to ensure that a student is captivated by the social world and has the tools to both communicate and cope in a range of social settings."
A spokesperson said, "An anacronym, SCERTS stands for Social Communication, Emotional Regulation, and Transactional Support. It is being utilized in Bermuda's autism classrooms as a guide for educational teams to target the most critical priorities and to select those instructional strategies that are evidence-based."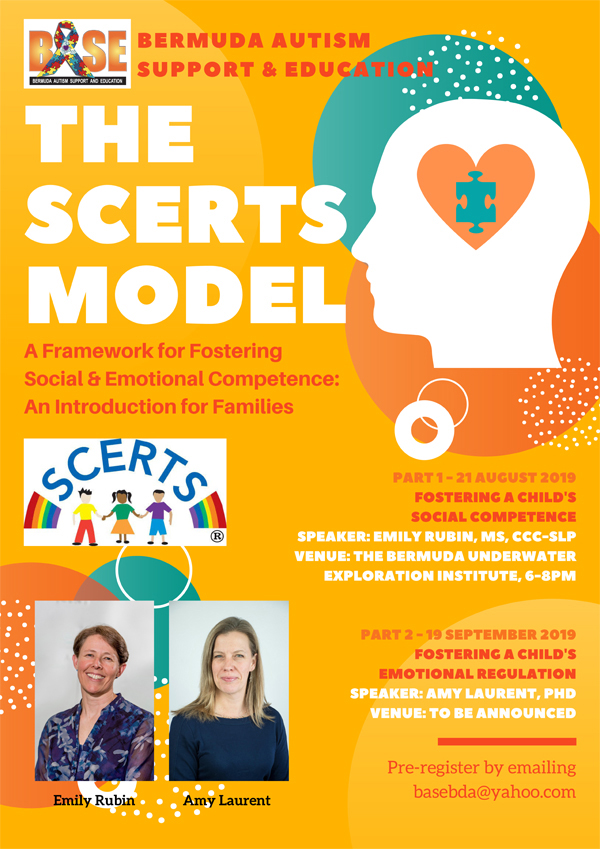 "Ms. Rubin has been working closely with Bermuda's education system for some time to ensure that teachers created learning environments which that foster social connections for all students."
"SCERTS is a natural extension of this learning, as it will provide Bermuda's teachers with tools to individualize these learning environments for students who have been identified as having autism or related social and emotional learning differences," said Ms. Rubin.
"With SCERTS as a guiding framework for evidence-based practice, teachers will be able to confidently select educational objectives and can implement strategies within the natural setting of the early childhood curriculum."
A spokesperson said, "During the workshop on Wednesday evening, families and interested teachers will be able to learn more about the SCERTS model, how it is being utilized in early learning classrooms and how it is coordinated between school and home. That said, it is not exclusively for those with young children."
Ms. Rubin said, "Learn about the most critical priorities for children with autism and social emotional learning differences at different stages of development. This is relevant for children who are not yet using words, children who are beginning to use language, and conversational children who are learning the social rules of conversation.
"For each of these stages, the most important goals will be discussed along with evidence-based strategies that can be implemented not only at school but at home and in the community."
A spokesperson said, "SCERTS is designed to help educators and families develop programming that is carefully coordinated across school and home. The goals that are addressed at school can also be implemented in natural routines at home [e.g., meal times, dressing, play, transitions, etc.].
"Similarly, the instructional strategies are also designed to be implemented not only at school but in the natural routines of home."
"Wednesday's workshop, "Fostering A Child's Social Competence," will be held at the Bermuda Underwater Exploration Institute, beginning at 6pm. The BASE-sponsored event is free of charge and open to all. Professional development hours will also be provided for those who register.
"A second workshop, offered by Emily Rubin's SCERTS Model collaborator, Dr. Amy Laurent, is scheduled for September. Details on the workshop, titled 'Fostering A Child's Emotional Regulation,' will be released soon."

Read More About
Category: All