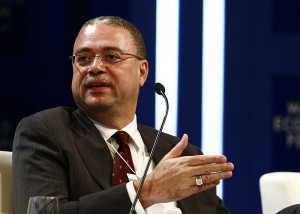 The Cabinet Office, in conjunction with the Barbados Association of Bermuda is advising the public that a Book of Condolence will be available for signing by residents who wish to pay their respects to the late Prime Minister of Barbados, the Hon. David Thompson.
The book will be available, in the Cabinet Office starting tomorrow [Oct 26].
Mr. Thompson passed away Saturday morning after losing his battle with cancer, just over a month after the country learned he was diagnosed with pancreatic cancer. Prime Minister Thompson was 48-years-old, and left behind a wife and three daughters.
Premier Dr Hon. Ewart Brown extended his condolences on behalf of Bermuda to the nation of Barbados. Premier Dr Brown will pay tribute by signing the Book of Condolence tomorrow.
The new Prime Minister Freundel Stuart was sworn into office a few hours after Mr Thompson succumbed to pancreatic cancer. Flags are being flown at half-mast in Barbados during the period of mourning for Mr Thompson, whose state funeral is expected to take place next week.
Read More About