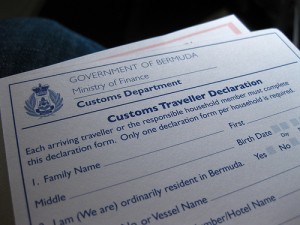 The Collector of Customs, Winifred Fostine-DeSilva let the cat out of the bag this morning [Nov 25] when she admitted that Bermuda Customs is having difficulty recruiting entry level Customs Officers and this is affecting Custom's ability to deal with its main duties.
At this morning's session of the Joint Select Committee investigating causes in the rise in crimes of violence, the Collector of Customs said that there had been 236 applicants for 12 entry level vacancies, but that only 12 of these had passed the written tests with only eight getting through both the written and drug tests.
The Collector said that Bermuda's Education system was not working as well as it could and this was reflected in these tests.
The Collector gave an example of a typical test question that asked how much Customs Duty must be collected if the value is $450 and the duty rate is 25%. She later said that one of the recent failures was a graduate of a UK university and had a Master's degree.
In her testimony, she said that because of recruiting problems, Customs were operating short-handed and had twenty vacancies that needed to be filled. She pointed out that by operating short-handed, she had to strip Customs Officers from some key tasks in order to maintain rigorous border controls at Bermuda's entry points.
Deputy Collector, Mr Pearman, testified that Bermuda had porous borders. He gave the example of a Bermuda boat that goes twenty miles offshore to Challenger Banks and returns to Bermuda without ever being checked. His comment reinforced the Collector of Custom's assertion that Bermuda's illegal drugs were sourced from the eastern seaboard of the United States. That though the drug itself might actually originate or be produced in another country, the main point of departure for entry into Bermuda was still the east coast of the USA, and not the Caribbean islands.
The Collector pointed out that guns were easily available anywhere in the USA and could easily be made untraceable or very difficult to trace. After that, guns could be imported in pieces over time and by many other means. The answer in gun interdiction lay in having good Customs Officers at the right places and able to use their legal powers, skills, and technology to best advantage. She pointed out that no country has achieved a 100% interdiction rate for drugs and other illicit imports but that, in her view, Bermuda does well.
The Joint Select Committee continues to meet.
Read More About