The National Dance Foundation of Bermuda today launched a 12-month calendar produced as a fundraiser for young Bermuda dancers participating in DanceBermuda, the Foundation's international three-week summer intensive.
The 2011 calendar has been sponsored by the Ross "Blackie" Talbot Charity Classic and, as a result, all proceeds will go directly to support the acclaimed Young Dancer's Programme at DanceBermuda.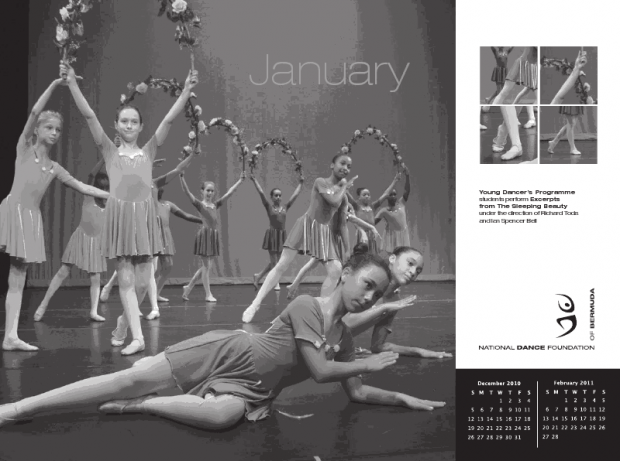 "When we saw the proposal for this calendar, we felt it was something we would like to be associated with," said Clement Talbot JP, Chairman of the Ross "Blackie" Talbot Charity Classic. "The Young Dancer's Programme was a recipient of funds from this year's Charity Classic, and our committee members who visited the classes this summer were so impressed by the personal attention and expert instruction the students receive. This programme is truly one of a kind, not only in Bermuda but throughout the dance world. So we are very pleased to be able to meet the costs of producing this fundraising calendar, knowing that proceeds will support Bermuda's young dancers."
National Dance Foundation of Bermuda Development Director Cathy Aicardi said the calendar features photographs taken by Bermudian Charles Anderson during the 2010 DanceBermuda programme.
"Since we started the DanceBermuda programme in 2005, Charles has been taking beautiful shots of students in class as well as rehearsing for and performing in the workshop production held at the end of each programme. We've wanted to use these images in a calendar before but haven't wanted to divert funding for production costs. The support we have received from Mr. Talbot and his committee support has enabled us to produce a lovely memento of the 2010 programme, just in time for holiday giving, that directly benefits Bermuda's young dancers."
Ms Aicardi said the calendar, which is being sold for $30 including shipping and handling, can be ordered at the National Dance Foundation's web site at www.dancebermuda.org or by calling the Foundation's office at 278-0709. She noted it will also be sold at various weekend markets in the weeks leading up to the holidays, including the Old Town Market in St. George's and the EEZ (Economic Empowerment Zone) Market in Hamilton and will also be available from the Bermuda Society of Arts at City Hall.
Read More About
Category: All