Bermuda CableVision today [Nov 25] awarded a team of nine officers from the Bermuda Regiment with its latest Community Service Award for ensuring the safe passage of a paralysed man on life support and his heavily pregnant sister to King Edward VII Memorial Hospital as Hurricane Igor battered the island.
The Regiment team consisted of: Captain Duncan Simons, Sergeant Major Gary White, Colour Sergeant Frederick Pereech, Sergeant Jason Smith, Corporal Shannon Jennings, Corporal Carol Everson, Lance Corporal Jason Swan, Acting Lance Corporal Eric DeSilva and Acting Lance Corporal Daniel Bascome.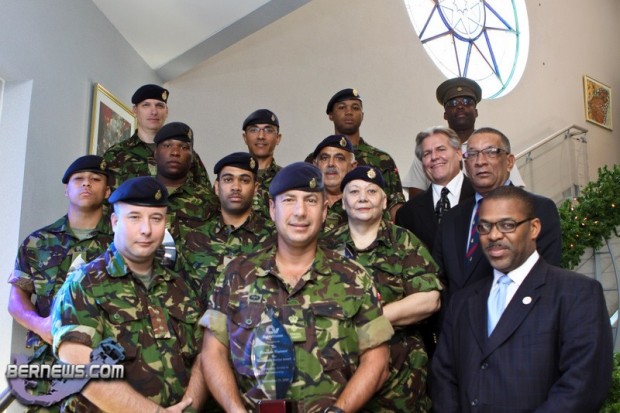 Commanding Officer, Lieutenant Colonel Brian Gonsalves accepted the award on behalf of the team at a ceremony held at the Bermuda Underwater Exploration Institute this morning. The full team (apart from Corporal Shannon Jennings who was off island) was in attendance and was applauded by the Minister of National Security Colonel David Burch and Minister for the Environment, Planning and Infrastructure Strategy Walter Roban at the event.
The team went to the rescue of Mr. Wolde Bartley during the evening of Sunday, September 19, as winds were building up to hurricane force on the island and it was deemed no longer safe to send out any ambulances from the hospital. Mr. Bartley, a former Regiment soldier, is heavily dependent on life support equipment in his home having suffered injuries in a car accident five years earlier. At the time of the rescue, power had been lost in Mr. Bartley's home and his oxygen supply was reliant on one remaining gas generator to continue operating.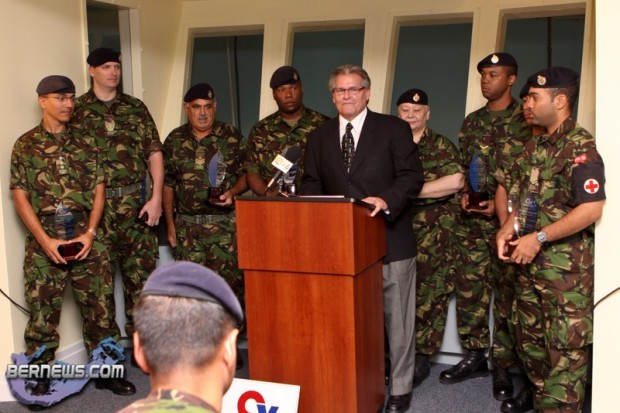 Cpl. Carol Everson was already aware of Mr. Bartley's circumstances from her role as a caseworker for the Royal British Legion in Bermuda. She had been in regular contact with his mother, his full-time carer, during the day regarding his safety. Once power was lost in the home, leaving
Mr. Bartley in a very dangerous situation, it was agreed that he should be transferred to KEMH by the Regiment until Hurricane Igor had passed and power was restored.
On arriving at Mr. Bartley's home, the Regiment team was made aware that his sister, who was in the house with him, was due to give birth to her first child the following day. It was decided that she should also be taken to the hospital by the Regiment to ensure her safety. The team, which incorporated a driver, chainsaw operative and two medics then transferred Mr. Bartley and his sister to KEMH via Regiment ambulance after dark and in heavy rain. Mr. Bartley's sister did in fact go on to give birth the following day.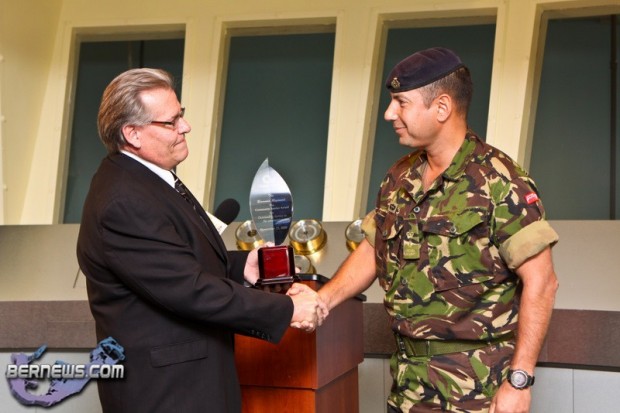 Commanding Officer Lieutenant Colonel Brian Gonsalves says: "I am deeply honoured and humbled to accept this award on behalf of the Bermuda Regiment. At the time of the request, there was no hesitation to dispatch a team to assist Wolde Bartley. The response team, under the Command of Captain Simons, acted swiftly yet cautiously to negotiate their way through debris and high winds to transport him to the hospital. The Regiment exists to help the people of Bermuda 24/7 regardless of the circumstances. We were only too happy to do what we could for Mr. Bartley in a time of need."
Minister of National Security Colonel David Burch comments: "Hurricane relief is one of the primary roles of the Regiment and I am proud to be here to applaud this team for their bravery in responding to this call of duty and moving Mr. Bartley and his sister to safety during what must have been very frightening time for the family. We are thankful for their work in making sure that lives were not lost unnecessarily during Hurricane Igor."
Minister for the Environment, Planning and Infrastructure Strategy Walter Roban adds: "I am delighted to be here today to recognise the courageous act of this Regiment team. While residents were bunkering down for the onslaught of this very large and prolonged storm, these individuals selflessly braved the elements, putting themselves in potential danger, to help others. I am grateful for their commitment to supporting the community and maintaining the island's infrastructure."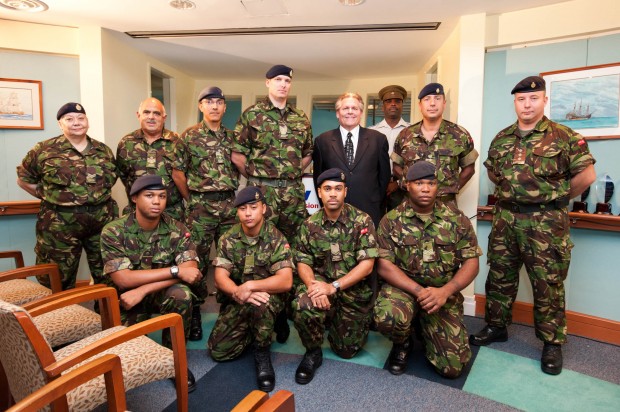 Terry Roberson, General Manager of Bermuda CableVision, says: "CableVision designed the Community Service Award to recognise those in the community that go the extra mile to help others in crisis. This is exactly one of those situations where such heroes come to fruition. It is reassuring to know that within our community there are individuals such as these who are willing and able to rally to the support of others when nature is acting against us."
Cpl. Carol Everson is currently leading an appeal to provide a new generator to Mr. Bartley, at an estimated cost of $6,000. In honour of the work of the Regiment, Bermuda Cablevision made a $1,000 donation to this appeal. Any members of the public or companies who wish to contribute to this cause can contact Cpl. Everson at the Bermuda Regiment's headquarters on 238-1045.
The Bermuda Regiment deployed 212 soldiers for the onset and duration of Hurricane Igor to help residents who found themselves in danger and to support the Government in protecting the island's infrastructure. Regiment soldiers were also on hand to help with the clean-up operation once the storm had passed.

Update: View videos here, and photos below by Only the Best, click to enlarge:
Read More About