Bermuda CableVision this morning [Apr 23] awarded Patricia Brown, a CableVision employee, with its latest Community Service Award in recognition of her 22 years of service as a Pink Lady and working with the Salvation Army Soup Ministry.
The award ceremony was held at the Bermuda Underwater Exploration Institute and was attended by Minister of Community, Culture & Sports Patricia Gordon-Pamlin; Minister of Health, Seniors & Environment Jeanne Atherden; Bermuda CableVision's senior management team; along with Ms Brown's family and friends.
As part of the Community Service Award, Ms Brown received a $1,000 donation from Bermuda CableVision to go to the charity of her choice.
Ms Brown began volunteering by caring for her great-uncle who died at 90-years-old. After his death, she wanted to continue to give back and joined the Hospitals Auxiliary of Bermuda [HAB], the oldest and largest volunteer agency in the Bermuda Hospitals Board, in 1993 as a Pink Lady and volunteers every other Saturday for three hours at a time.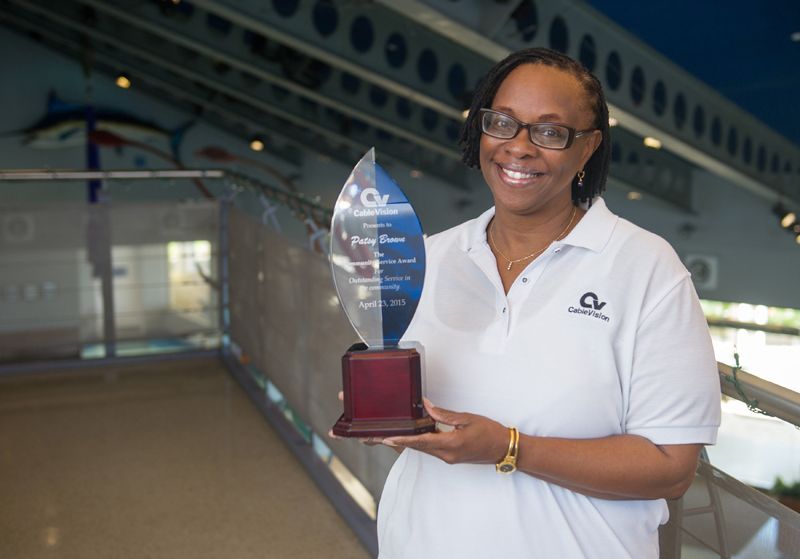 In addition to being a Pink Lady, Ms Brown works with the Salvation Army Soup Ministry at least ten times a year. Her responsibilities include making sandwiches at Harbour Light Centre then loading the truck and delivering the food to homeless people in Hamilton.
Ms Brown, a Customer Service Representative for 11 years at CableVision, says: "I want to thank Bermuda CableVision for this recognition. I have been blessed all my life so if I can bring a smile to someone's face by helping out, I do it. It makes me feel good to give back.
"Most times, I put myself in other people's shoes because I could have been that person on the receiving end. It's better to give than to receive and because I have a job, a home and transportation, I choose to give back to those who don't have these things. You can't help everybody, but everybody can help somebody."
Minister Gordon-Pamplin says: "I commend Ms Brown for her dedication to helping those who are less fortunate in Bermuda. Her service to both the Hospitals Auxiliary of Bermuda and the Salvation Army Soup Ministry is admirable. On behalf of the Government of Bermuda, I'd like to thank Ms Brown for caring for her fellow citizens."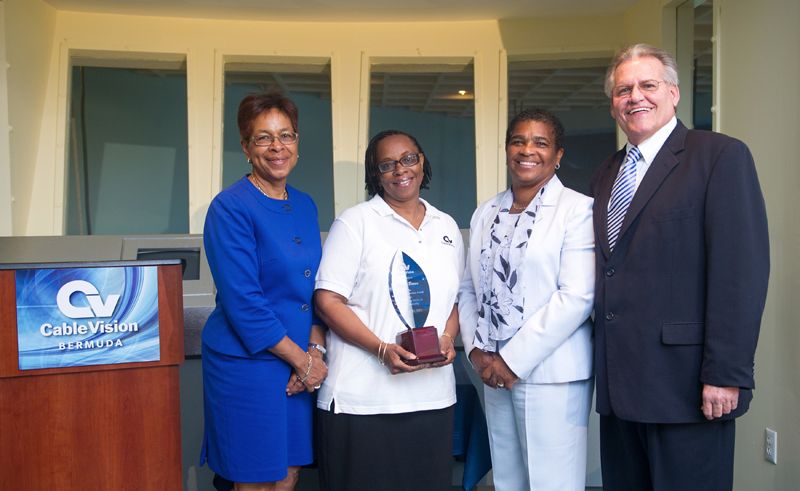 Minister Atherden comments: "Ms Brown's more than 20 years commitment to the Hospitals Auxiliary of Bermuda shows how passionate she is about health and seniors, both of which fall under my remit. I would like to thank her for volunteering countless hours over the years to this special charity."
Terry Roberson, CEO of Bermuda CableVision, comments: "Patricia has been a CableVision employee for 11 years and has quietly volunteered without any of us knowing about it. When we learned about her community service, we wanted to recognise Patricia as our next recipient. I would like to thank her for selflessly volunteering for more than two decades and I encourage others in the community to join her."
Read More About