Crimestoppers released statistics, using information provided by the Bermuda Police Service, showing firearm incidents [fatal, injured, confirmed and unconfirmed] from 2005 to 2010. The chart indicates that we have had more people injured or killed by firearms this year, than in the previous 5 years combined.
The organization said "Total number of firearm incidents from the beginning of the year 2010 to date stand at 63 confirmed and 143 unconfirmed totaling 206."
They said the figures are valid up to November 25, 2010, meaning that the double shooting that occurred on November 27, which tragically left one man paralyzed is not included in the data.
See the chart below, provided by Crimestoppers, for the statistics of firearm incidents from 2005 – 2010: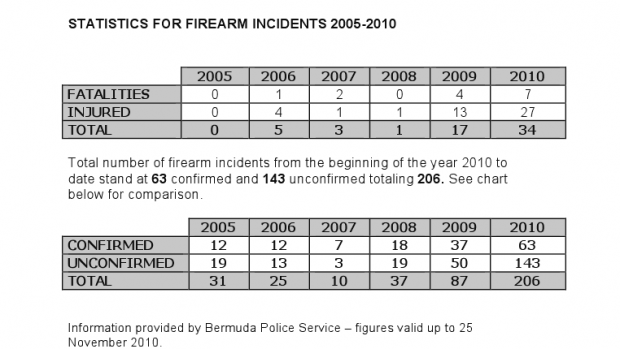 Read More About