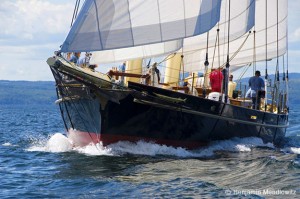 LookTV has produced a new film chronicling a voyage of archeological discovery by Bermuda Middle School students who helped to identify a previously unknown shipwreck in Castle Harbour.
"Reefs, Wrecks and Renegades: A Voyage of Discovery Aboard the 'Spirit of Bermuda'," captures an exciting interdisciplinary education initiative which was a collaborative project between Bermuda Sloop Foundation and National Museum of Bermuda. It also involved the Bermuda Institute of Ocean Sciences, the Custodian of Wrecks from the Department of Conservation Services and 500 local Middle 3 school students.
During the 2009/2010 academic school year, all Middle 3 students attending Government supported Middle Schools, and a number of those attending local private schools, participated in a five-day learning expedition aboard the sail training vessel "Spirit of Bermuda".
While aboard, the students were engaged in the authentic process of registering, surveying and documenting a previously unexplored shipwreck located in the shallow waters of Castle Harbour, near Nonsuch Island.
The 24 minute film appears below:
The film produced by LookBermuda, follows the students on their voyage as they apply for a license to explore the wreck from the Historic Wrecks Authority, seek environmental advice, survey and dredge the wreck and attempt to figure out the ship's identity.
Students learn how to conserve historical artefacts and how maritime artefacts can provide insight into the lives onboard a ship and the technology, craftsmanship, activities and cultures of the past.
The film was created as an interdisciplinary teaching tool for teachers and to educate the public on the importance of Bermuda's underwater cultural heritage and inspire everyone to protect it for future generations.
The film will be combined with interactive lesson plans and distributed to all of the schools via LookBermuda's soon to be launched Bermuda Streaming Platform. It can also be viewed on LookTV cable channel #001.
Bermuda Sloop Foundation and National Museum of Bermuda would like to thank the students from Bermuda High School for Girls, Bermuda Institute, Clearwater Middle School and Whitney Institute as well as JP Skinner from BIOS, Dr. Philippe Rouja from Conservation Services and the Historic Wrecks Authority for their participation in the film.
Read More About