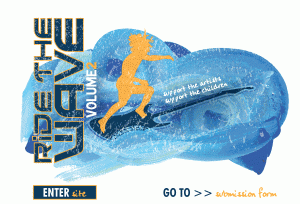 The first "Ride The Wave" charity CD demonstrated Bermuda's entertainers have big heart as well as big talent, raising more than $40,000 for the Coalition for the Protection of children's breakfast programme.
The Freisenbruch-Meyer Group sponsored the collection of 20 tracks to raise funds for the Coalition for the Protection of Children as well as to promote Bermuda's musical talent.
Featuring contributions from Bermudian musicians including superstar Heather Nova, Gita Blakeney and Troy Anthony, project coordinator Tony Brannon said the project was so successful he is now soliciting material for a follow-up CD.
Mr. Brannon said with the deadline for submissions approaching, the organisers require the following material from artists interested in contributing:
Your song as an MP3
Your song as a 16 bit .WAV file
They will pay for the mastering of your track in New York.
A release letter stating you are the composer and agree to allow your song on "Ride the Wave 2″ – This is a requirement from discmakers in order to reproduce the CDs.
All details of composition. Who is the composer of Music/Lyrics
Song Title, length/time of track, composer
Please attach your lyrics and any high definition photos of yourself
Mr. Brannon said organisers will decide on the final selections for the CD within the next 30 days — only one track per artist will be included, but up to three songs can be submitted for consideration. He can be contacted at 334-8669 or via tony@bermuda.com
Submissions received so far:
1. Horrendous Mendez –- "Feel the Breeze"
2. Taylor Rankin – "Breathe EZ"
3. Leah Amaral – "Read My Mind"
4. The Narrows – "Ultra Violet"
5. Mox Cassidy – "Get it Right"
6. Troy Anthony – "More Love"
7. Troy Anthony – "Never Gonna Give You Up"
8. Chris Finsness – "Wilderbeast"
9. Oscar Deuss – "Further From You"
10. Zenji Ingham/Zenji San  – "Die By The Gun"
11. Mikey Wild – "Wake Up And Live"
12. SNIPER the Miracle Child  - "Love for the Children"
13. SNIPER the Miracle Child – "Every Day"
14. Val Sherwood – "For So Long"
Artists who have said they are submitting:
1. Secret PoPo
2. Uzimon
3. Mia Chambray
4. Joy Barnum
5. Victims of Existence
6. Bones
7. Juanita Larue
8. Flookie (via James Leman)
9. Bailey Outerbridge
10. Del Pedro
11. Ellsworth Rosser
Read More About
Category: All, Entertainment, Music, News