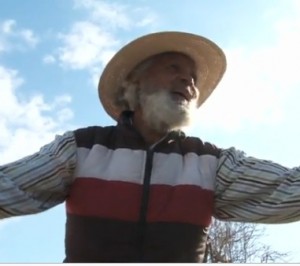 He's the man who has taken the Bermudian emphasis on "Good morning!" to its logical extreme — and earned the love and admiration of thousands of Bermuda residents and visitors in the process.
Now the world is about to be introduced to Johnny Barnes — retired bus driver and Hamilton commuters' morning  greeter at the Crow Lane roundabout — in a new documentary.
After its premiere at the 2011 Bermuda International Film Festival later this month, the Johnny Barnes film "Mr. Happy Man" will screen at a number of film festivals across the United States in the coming weeks.
The film has made the official selection of Aspen Film's Aspen Shortsfest and was chosen from more than 2,400 submissions to screen at the Nashville Film Festival.
"Mr. Happy Man" — one of Mr. Barnes' nicknames along with "Mr. Feel Good" – has also been selected to screen at the RiverRun International Film Festival in Winston-Salem, North Carolina and the Independent Film Festival in Boston. All of the festivals are to take place in April.
Director Matt Morris said he was browsing photographs on Flickr.com one day and came across an image of Mr. Barnes with a caption describing the living Bermudian legend's morning routine of greeting passing drivers with calls of "Good morning!" and "God bless you!"
Intrigued, he followed up with a Google search — and after reading about Mr. Barnes' decades-long, one-man effort to spread good will decided he was the perfect subject for a documentary.
Mr. Morris travelled to Bermuda, staying with a friend who has a home on the island, and began work on the film.
"It was a fantastic experience," he said, "and I loved filming with Johnny."
"Mr. Happy Man" will mark the second the second time octogenarian Mr. Barnes has received widespread international exposure in recent months. He was profiled in American author and life coach Marci Shimoff's newly published book "Love For No Reason", a bestselling study of unconditional love and those who practise it.
The preview trailer for "Mr. Happy Man" is below:
Read More About
Category: All, Entertainment, Films/Movies, News