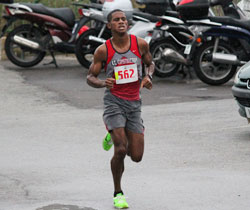 Yesterday [Mar.20] two of the island's top athletes turned out record setting performances during overseas contests –  breaking two Bermuda records.
Swimmer Kiera.Aitken broke the 800m Freestyle Long Course Record while competing at the Circuit "V Trofeu CN Sabadell" meet in Spain. Her time of 9:35.38, broke the old record of 9:50.26 which was set on April 16, 2009 by Stephanie Myles.
Ms Aitken was not alone yesterday, as one of the island's top runners joined her in shattering a Bermuda record in an overseas event.
During the '49er Classic' in Charlotte, North Carolina, Lamont Marshall [pictured] won the race, shattering the Bermuda 3000 meter record in the process.
Mr. Marshall finished in a time of 8:25.15, which is 10 seconds faster than the old record which was 8:35, set by Jay Donawa in April 27, 1990 in Philadelphia.
The previous day in the same meet, Mr Marshall finished second in the 1500 meters in a time of 3:53, which was under 0.5 seconds behind the winner.
Read More About