The Mt. Zion Male Voice Choir hosted their fifth annual Gospel Concert series this past month. On June 30th they performed in Dockyard, on July 7th at the Rubber Tree in Warwick, and on July 14th at Albouys Point in Hamilton. The videos below are from the groups final performance at St George's Town Square on July 21st.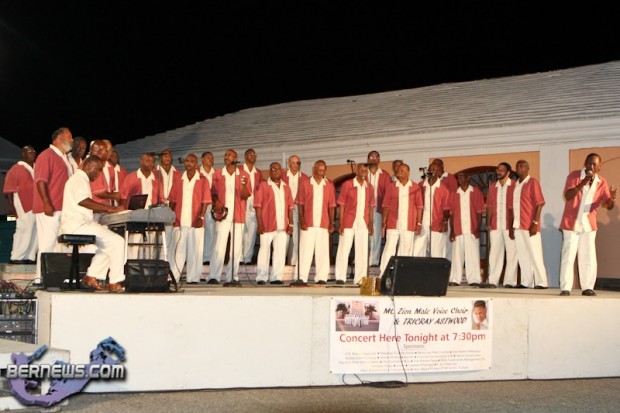 The concerts also featured Tricray Astwood, who released his CD "Let Judah Reign" last year, which received regular airplay on Bermuda radio stations.
The choir consists of some 30 men who say their mission is to "spread the word in song throughout the Bermuda community; to encourage men and their families to get involved with their church and the community; and to be a catalyst for change in the community."
They also Minister in song to the Bermuda prison community and to sports clubs throughout the island. They are featured in churches, community events; municipal events; Government events etc.
They have recorded two CD albums, and their repertoire includes southern & contemporary Gospel, Negro Spirituals, traditional Gospel, reggae gospel, and various music idioms that express their wide-ranging musical talents.
They have toured the USA in 2007; 2008; and 2009 from Dayton & Columbus Ohio, to New York & New Jersey and Richmond Virginia. They have appeared on the international Gospel 'Word' TV Network with Dr. Tyrrell Brown of 'Morning Star Baptist Church' Richmond Va. USA.
They also were the guest artist at the 103rd anniversary of Morning Star Baptist Church. They were featured at the 2008 Bermuda/USA ceremonies hosted by the Mayor of New Jersey honoring the association of New Jersey with Bermuda tourism.
The summer open air Gospel concerts were sponsored in part by the Bermuda Government, Ministry of Community Affairs and the business community. This was their fifth annual Gospel Concert series in Bermuda with attendances topping the 500 mark per night.
Read More About
Category: All, Entertainment, Music, Videos