Following the tour of St George's on Monday [Sept.28] Henry Bellingham, U.K. Minister for Overseas Territories, went into the eastern part of St Peter's graveyard.
He, alongside Governor Sir Richard Gozney, Mayor of St. George's Kenneth Bascome, UBP Leader Kim Swan, and others, went there to visit the grave of Governor Sir.Richard Sharples, and Captain Hugh Sayers, the Governor's Aide-de-Camp. Both men were shot and killed in the grounds of Government House in March 1973.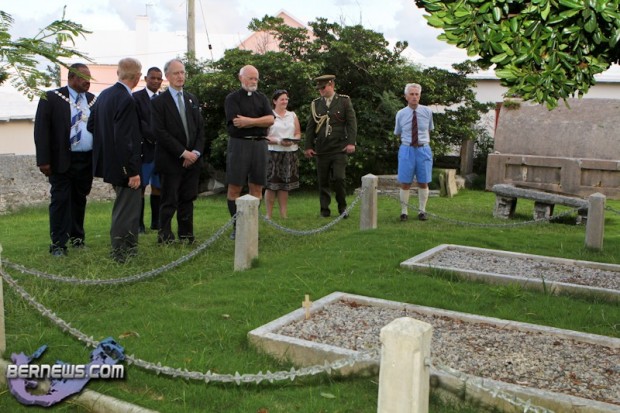 During their state funeral almost 40 years ago, the two caskets were carried from Hamilton to St. Georges through Bermuda's waters aboard a British warship the HMS Sirius; the only time in Bermuda's history this has occurred. Bermudians lined the streets to view the proceedings.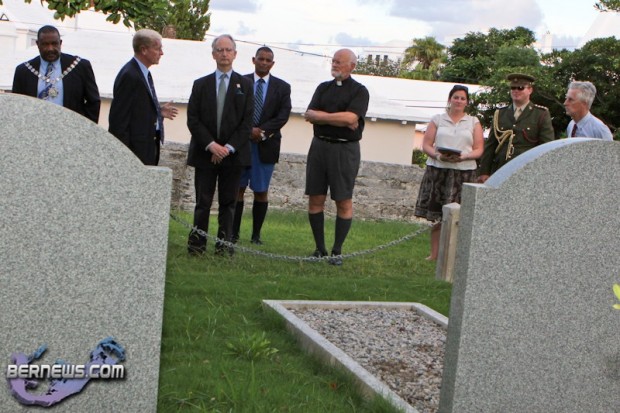 Both men had been buried, side-by-side, in the re-opened for that occasion, eastern graveyard at St Peter's Church. This was considered the highest honour Bermuda could proffer, as the site was long barred to new burials.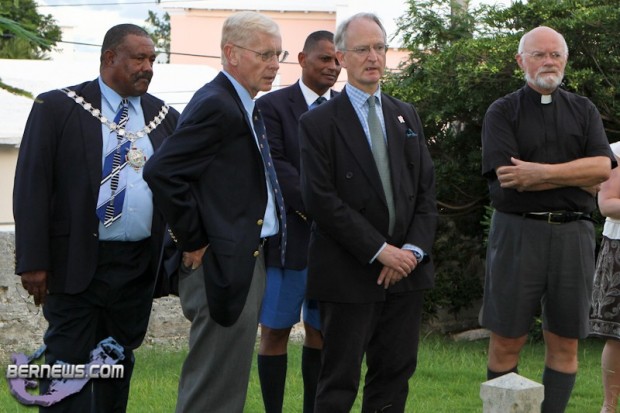 Mr Bellingham left Bermuda after a full two and a half-day programme here. On his departure the Minister said: "I have had a fascinating two days in Bermuda and have been given a warm welcome throughout. My meetings have been substantive and productive and I have learned much about Bermuda's successes and its future challenges."
"I was also delighted to come to Bermuda to set out the British Government's proposals for its future partnership with the Overseas Territories and the role I believe Bermuda can play in it."
This was the Minister's first visit to Bermuda and the first visit by a British Minister for the Overseas Territories since 2008.
Read More About
Category: All