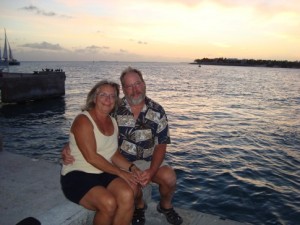 A woman swept overboard in the ill-fated North American Rally To The Caribbean [NARC] Newport-Bermuda regatta had asked friends and family not to worry about the vessel's stormy passage to the island in a blog updating the yacht's progress.
American Jan Anderson, sailing with her husband Rob [the couple are pictured here], was lost overboard from her cruising sailboat "Triple Stars" on Friday [Nov.11] approximately 285 miles northwest of Bermuda.
According to the US Coast Guard report, a radio call from Rob Anderson stated that his wife Jan had been swept overboard by a 30-foot wave.
A freighter, "High Jupiter", was diverted to the scene to search for Mrs. Anderson and also took Mr. Anderson off "Triple Stars". NARC organisers said the boat was abandoned.
The Coast Guard launched an HC-130 Hercules rescue crew from Air Station Elizabeth City, North Carolina, to assist in the search for Mrs. Anderson.
The search was abandoned yesterday [Nov.12].
The NARC regatta — sailing from Rhode Island to Bermuda and then on to St. Martin in the Caribbean — was disrupted by gale-force winds and stormy seas produced by a week-long low-pressure front which developed into Tropical Storm Sean. 
Another vessel in the NARC fleet was abandoned on the high seas last week, its crew rescued by the Bermuda freighter "Oleander" while a third yacht participating in the regatta had to be towed into St. George's harbour.
The regatta — which got underway on October 30 — is open to veteran offshore sailors and professionally crewed boats.
"So far I must say the weather has been…STINKY…the past couple of days have been tough, but we are 'hove to' and resting today…," said Mrs. Anderson in a blog post on November 6. " …We are in good shape and there are a few boats all spread around this region just hanging out waiting for this storm/low pressure before we can move any closer to Bermuda.
"It apparently stalled, producing 40-50+ winds, high seas, stormy conditions some of what we saw on Saturday! The good news is we are drifting the right direction [ENE]to hang out for a couple of days to wait to see what this low does, once it that pesky gets moving again.
The Andersons' Island Packet 38 "Triple Stars"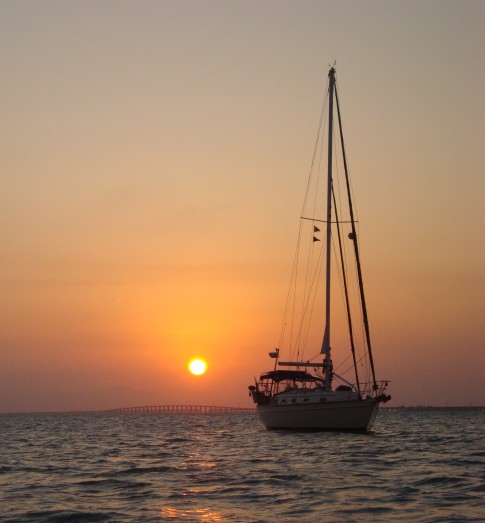 "SO…we won't be in Bermuda until at least Thursday, maybe Friday and we are just taking one day at a time. We have plenty of food & drink on board and will be REALLY looking for the Laundromat in Bermuda
"We are both good…a bit tired but will hopefully both get some sleep tonight. DO NOT WORRY… we are doing fine. Will write more as we know more and can use the computer, as sometimes it's just too rocky.
" … Love you all and will update as we can."
Yesterday [Nov. 12] the Andersons' daughter Kristen updated her parents' sailing blog, asking friends and fellow sailors to keep her mother in their prayers.
"As many of you already know yesterday November 11 there was a weather related accident and my mom was swept off the boat," she said. "My dad called in a mayday and the Coast Guard was dispatched right away. My dad was rescued by a freighter boat and is safe aboard it. As of now the search and rescue for my mom is continuing.
"She is a very strong woman like all of you know and we are still praying that they are able to find her. I will attach the link to the Coast Guard website that has already posed one press release.
"Please keep my mom in your thoughts and prayers and I will try to update everyone as much as I can."
Last location of the "Triple Stars" According To The Yacht's blog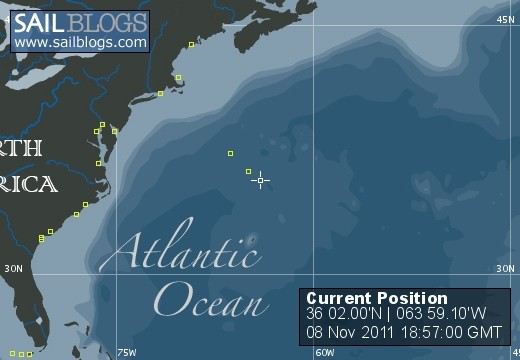 Read More About