[Updated, 7.15 a.m., Nov. 11] Sean weakened a little this morning as tropical storm conditions spread over Bermuda.
Located approximately 95 miles west northwest of Bermuda at 7 a.m., maximum sustained winds had decreased to 60 mph with higher gusts.
"Tropical Storm Sean moves by to our near north early this morning, and brings further gales and storm force gusts with showery rain," said Bermuda Weather Service forecaster. "Later this morning conditions begin to improve as Sean races away to the northeast.
"It remains windy into the afternoon though as pressure builds quickly from the west. Winds finally ease this evening as high pressure takes a hold."
Government last night [Nov.10] advised that a Storm Warning has been issued for the island, and warned that sustained winds will reach 35 to 45 knots, with gusts as high as 55 knots over the marine area overnight.
The statement said, "The Minister of National Security, the Hon. Wayne N.M. Perinchief, JP, MP, would like to advise the public that Bermuda remains under a Tropical Storm Warning, as Tropical Storm Sean makes its approach overnight tonight.
"The Bermuda Weather Service has advised that sustained winds will reach 35 to 45 knots, with gusts as high as 55 knots over the marine area overnight.
"This will be accompanied by occasional periods of heavy rainfall and waves up to 16 feet offshore. Residents in low lying areas will already note the unusually high tides recently, due to unrelated oceanographic phenomena.
"The minimal surge produced by Tropical Storm Sean may cause some additional inundation, but not to the extent that we saw last year during Igor.
Dr. Mark Guishard, Director of the BWS, said the current forecast calls for sustained gales, periods of heavy downpours and thunderstorms with a risk of small hail.
Dr. Guishard also advised that in the early hours of Friday, it is anticipated that storm-force wind gusts of up to 60 knots will occur intermittently. As such residents are encouraged to monitor weather reports and updates for changes.
Residents can get the latest weather information on by tuning in to or logging on to CableVision Ch. 4 and WOW Ch. 100, FaceBook, weather.bm, or by dialing 997 for the Public Forecast, 9771 for the Current Observation, 9772 for the Marine Forecast, and 9773 for the Latest Warnings & Tropical Information.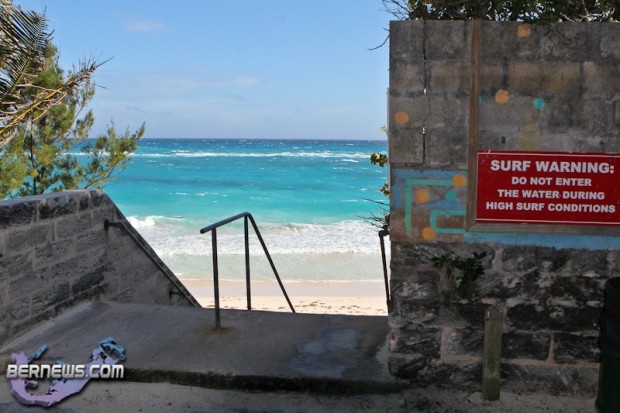 Due to Tropical Storm Sean, the Department of Parks has erected high surf warning signs at some of our national parks and beaches this afternoon [Nov.10].
They include John Smiths Bay, Elbow Beach, the South Shore Park [including Warwick Long Bay east and west, Chaplin/Stonehole, Horseshoe Bay] and Church Bay.
In its 2pm advisory on Tropical Storm Sean, the Bermuda Weather Service said its closest point of approach to Bermuda is forecast to be 130 nm to the northwest at 4am tomorrow morning [Nov.11].
Read More About
Category: All