Imagine Bermuda will host a community day from 1pm to 7pm this Sunday [Dec.11] at T.N.Tatem Middle School, which will feature majorettes, gombeys, fashion show, a fun castle, a rap contest and much more.
A spokesperson said, "The aim is to foster collaboration in the various zones of Bermuda, with churches, sports clubs and other organizations, with the view to strengthen the network throughout our communities, which can positively impact our young people. (At a time when this zone is experiencing increased challenges)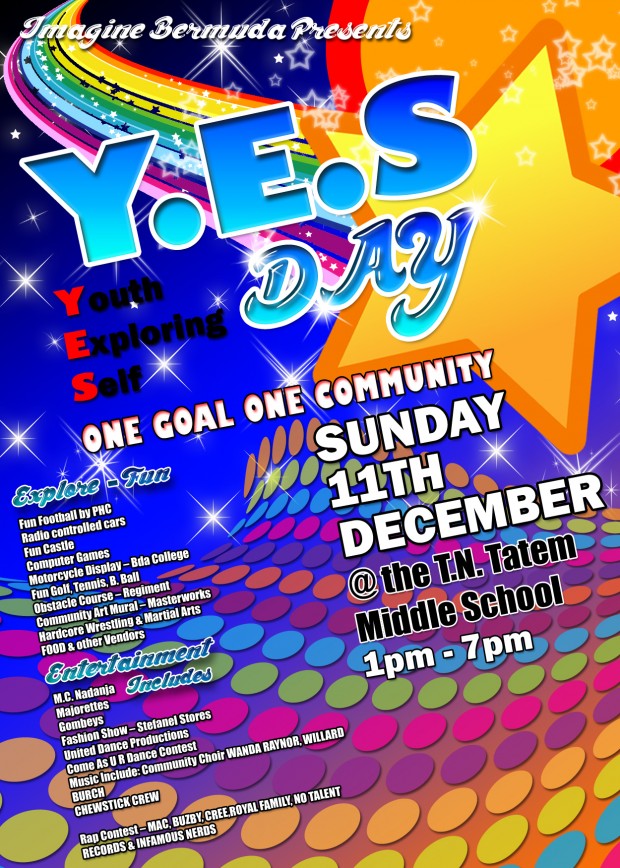 "With this in mind we have organized a YES Day, which will be held on Sunday, December 11, 2011 on the campus of T N Tatem Middle School. While YES refers to Youth Exploring Self, the afternoon of activity is geared to attract the whole family, with a special effort of attracting our young people from the age of 13 – 18.
"The community-day activities were planned by reps from the Faith Sector; clubs; students from Warwick Academy, Bda College and BI; the Police Community Action Team; the Regiment and other volunteers from this zone, supported by concerned residents from across the island.
"The events will include a variety of activities for the enjoyment the family and to challenge young people. In addition there will be an observance which will salute persons from this part of the island who have gone above & beyond to assist the development of young people – e.g Calvin Simons & Malcolm Kirkland. Varioius island leaders, including the Governor, will join in this salute.
"We are inviting the community to come out and support this event. "
Read More About
Category: All