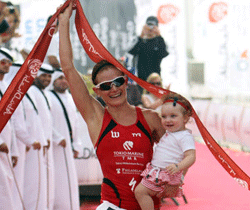 Last weekend Nikki Butterfield won her first major professional race at the Abu Dhabi International Triathlon, cementing her position as one of the top professional women in the sport today.
Mrs Butterfield — the wife of top local athlete Tyler Butterfield — recently returned to triathlon after four years as a professional cyclist and following the birth of her daughter, Savana Rose, in December 2011.
"Once I worked through my time deficit following the swim, it was down to Caroline (Steffen), Angela (Naeth), Jodie (Swallow), Melissa (Rollinson) and I on the bike. The other girls were riding really strongly and were extremely attentive to my every move," said Mrs Butterfield.
"They were not going to give me any opportunity to get away. I tried attacking through some of the technical sections and I gained a bit of a gap, but they rode back to me after 30km or so away. I realized there was no way they were going to let me go by choice. When it's four against one you're guaranteed to lose."
"You're not allowed to draft in these type of races, yet there's still a huge benefit from sitting the allowable 10 meters back from another rider. You're not directly in the wind, it's easier to keep the pace and momentum, and mentally it's easier than taking the lead.
"I decided there was no sense in killing myself to stay on the front if the other girls were just going to sit on my wheel. I decided to sit back and check out how everyone else was riding. My biggest concern was Melissa. The other girls are all good runners but I was hoping if we all rode the same pace, I would come off the bike with fresher legs and be able to pull ahead on the run, but Melissa is a world class runner – I really didn't want to go head-to-head with her."
"I noticed Melissa was starting to leave bigger and bigger gaps to the girls in front and her response time was becoming slower to any changes of pace. I used a cycling 'trick' – I simply let her leave the gaps to the front three without panicking. This forced her to close the gaps and burn valuable strength and energy.
"After three or four times of this happening she left a bigger gap than before and didn't seem to be able to close it down. I knew it was time – I attacked as hard as I could past Melissa so that she couldn't get on my wheel."
"I jumped across to the group I thought would be Angela, Caroline and Jodie. However, while I was trying to get rid of Melissa, Angela had attacked and pulled away from Jodie and Caroline. I couldn't see her anywhere up the road so I knew she had a decent gap. This wasn't what I expected but I quickly realized it created an ideal situation for me."
"I sat just back from Jodie and Caroline for about 30 seconds to catch my breath, then attacked past them before they noticed I was there. The element of surprise helped me gap them quickly. Fortunately my legs remembered what to do from four years of professional cycling – it's been a long time since I've done any power training but apparently my body did not forget!"
"Next I focused on getting across to Angela as quickly as possible. She is a super-strong cyclist so I knew I needed to close in on her fast or risk letting her go. Once she was in my sights I was able to judge her speed and the road ahead. We'd just turned back into a tail wind so I waited a minute or two and I then jumped the last little bit across to Angela.
"She turned around and said, 'Let's work together.' I considered it for a split second, but I didn't want to risk having her outrun me. I really wasn't keen on second place. Her pause in pace to turn and talk gave me the perfect opportunity to attack. I certainly took advantage of her inexperience in terms of cycling tactics.
"With 40km remaining I rode as though I was riding a 40km time trial. I wasn't thinking about the run- I decided it was all or nothing at that point. That last 40km was really fun! Of course it was hard work, but that is what I love – the chance to really test myself and see what I am capable of.
"I knew I had to be patient and wait for the right moment to present itself." Butterfield led into the bike-to-run transition with more than a minute gap on Angela Naeth, two minutes on Caroline Steffen and Jodie Swallow and six minutes on Melissa Rollison.
Replaying the run, Mrs Butterfield said: "Even with a decent gap I was still running scared. I felt confident I could hold off Caroline and Jodie, and Angela as well who is a very strong runner but since she had ridden so hard too I knew she would be tired. But I wasn't sure about Melissa. Even though I had minutes on her, the 20km run was certainly long enough for her to make up a lot of time, and after a 200km bike anything can happen."
"The course was a series of out and backs, so I got to see the other girls at several different points, but I didn't have much information in terms of the time gaps. It was also difficult because Melissa has such a long stride that makes it hard to tell how fast she's moving. My strategy was just to run as hard as I could all the way to the finish chute. I wasn't taking anything for granted, that's for sure!"
Mrs Butterfield won by a two-minute margin and proudly crossed the finish line holding 15-month-old Savana Rose.
Read More About