[Updated with video] Bermuda's Tyler Butterfield dominated a field of top international athletes to win the prestigious Abu Dhabi International Triathlon in the United Arab Emirates today [Mar 15].
The $40,000 first place prize money attracted the best triathletes from around the world, with Bermuda's two-time Olympian topping the field in a time of 6 hours and 43 minutes.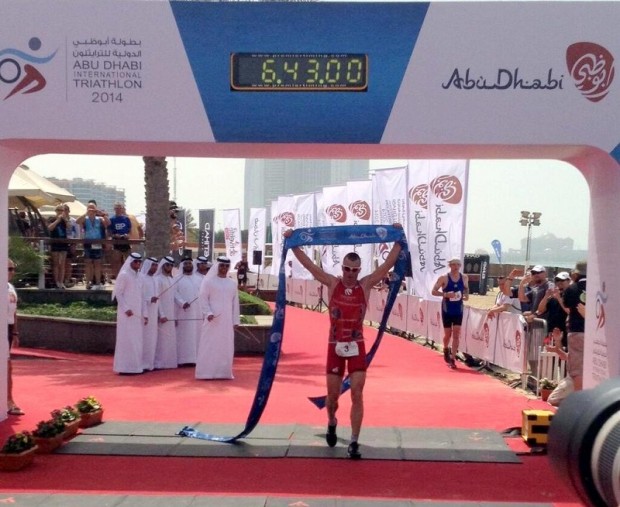 Butterfield finished the 3km swim, 200km bike, and 20km run course in 6hrs 43min, with second place going to Bas Diederen of Belgium, Frenchman Sylvain Sudrie was third, and defending champion Frederik van Lierde of Belgium was fourth.
Around 2,000 competitors from 68 countries took part in the event, which offered a prize purse of around $200,000 in total.
Update 2.16pm: The top 8 are below
1
Tyler Butterfield
3
BER
06:43:01
2
Bas Diederen
9
NED
06:43:47
3
Sylvain Sudrie
5
FRA
06:45:06
4
Frederik van Lierde
1
BEL
06:46:12
5
Bert Jammaer
8
BEL
06:50:48
6
Eneko Llanos
2
ESP
07:01:28
7
Edo van der Meer
11
NED
07:02:14
8
Henrik Hyldelund
12
DEN
07:02:36
Update 3.42pm: The entire 4-hour video of the race can be found here on YouTube, and a 'chopped' version showing the last few minutes of the race and Butterfield crossing the line for the win is below. [Video may be a bit slow to load]
Update 11.50pm: Shadow Sports Minister Michael Weeks said, "The continuing athletic excellence of Tyler Butterfield continues to inspire and excite Bermudians of all ages. This latest achievement solidifies Tyler Butterfield as one of our premier athletes, both here at home and on the world stage.
"We commend Tyler for his latest accomplishment and will continue to support his athletic career as he goes on to even greater achievements in the future."
- Photo courtesy of Abu Dhabi International Triathlon Twitter
Read More About