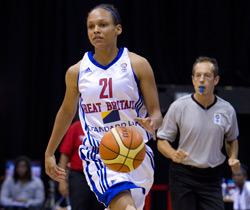 [Updated] Bermuda's Jenaya Wade-Fray has been selected for Great Britain women's basketball team for the 2012 London Olympics.
British Basketball performance director Chris Spice said: "This year has been our hardest selection to date.
"I congratulate all those players who have been selected for the Olympic Games in London but equally I would like to thank all of the other squad players that have pushed themselves to the limits but just missed out."
Before the Olympics, the team will play preparatory matches against Angola, Australia and France in Sheffield before meeting reigning gold medallists USA in Manchester. They tip-off their Olympic campaign against Australia.
Wade-Fray played basketball for the University of Tennessee at Chattanooga [UTC] where she racked up a number of awards, and was also named the Bermuda Female Athlete.of the Year last year. She presently plays professional basketball in the United Kingdom.
While we have not yet been able to confirm this, it is believed Wade Fray may be the first Bermudian basketball player to ever make an Olympic appearance.
Bermuda came extremely close to having two basketball players make the Great Britain Olympic squad, with Sullivan Phillips selected for – and training with – Great Britain's preliminary squad. However Phillips was recently declared ineligible for the team as he had played in an international match for Bermuda.
Update 10.47am: Sports Minister Glenn Blakeney congratulated Jenaya Wade Fray this morning [June 22] in the House of Assembly for being selected for the Olympic squad. The Minister called it an "historical accomplishment" and said she "epitomizes the hard work and dedication put into the sport."
Read More About