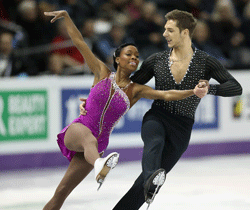 Vanessa James and her partner Morgan Cipres finished in tenth position in the Pairs Figure Skating Event at the Sochi Winter Olympic Games, representing France.
The pair recorded an overall score of 179.43; they placed tenth in the Short Programme with a score of 65.36, and 11th in the Free Programme with a score of 114.07.
Ms. James and former partner Yannick Bonheur also represented France in the 2010 Winter Olympic Games in Vancouver, Canada, finishing with an overall placement of 14th as they skated together to become the first ever black figure skating couple to compete in the Olympic Games.
The final pairs figure skating ranking for the 2014 Winter Olympic Games ended up as follows [short program;free program]:
Tatiana Volosozhar and Maxim Trankov, Russia [1, 84.17; 1, 152.69], 236.86
Ksenia Stolbova and Fedor Klimov, Russia [3, 75.21; 2, 143.47], 218.68
Aliona Savchenko and Robin Szolkowy, Germany [2, 79.64; 4, 136.14], 215.78
Pang Qing and Tong Jian, China [4, 73.30; 3, 136.58], 209.88
Kirsten Moore-Towers and Dylan Moscovitch, Canada [6, 70.92; 5, 131.18], 202.10
Vera Bazarova and Yuri Larionov, Russia [8, 69.66; 6, 129.94], 199.60
Meagan Duhamel and Eric Radford, Canada [5, 72.21; 7, 127.32], 199.53
Peng Cheng and Zhang Hao, China [7, 70.59; 8, 125.13], 195.72
Marissa Castelli, Cranston, R.I., and Simon Shnapir, United States [9, 67.44; 9, 120.38], 187.82
Vanessa James and Morgan Cipres, France [10, 65.36; 11, 114.07], 179.43
Read More About