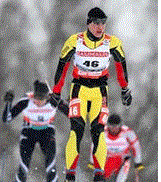 Bermudian Dr. Tucker Murphy's 2014 Sochi Winter Olympic Games 15K Free Cross Country Skiing Event saw him improve on his 2010 performance, placing 84th even as he recorded a slower time, according to the official Sochi 2014 website.
At the 2010 Winter Olympic Games, Murphy finished 88th overall with a time of 42:39.1; in Sochi, Murphy finished 84th overall with a time of 49:19.9.
Murphy at the 2.2K mark was in 85th place clocking a time of 6:11.3, he was 1:08.3 behind the leader. At the 5K point, Murphy remained in 85th as he crossed the mark clocking 15:10.9; he was then 3:07.2 behind the leader.
Murphy maintained his position through the 8K mark, recording a time of 24:07.1; at that point he was 5:06.7 behind the leader. At the 10K mark, Murphy moved up two places to 83rd, clocking a time of 31:52.7, leaving him 6:48.7 behind the leader.
Through the 12.5K mark, Murphy had fallen one place to 84th. He was clocked across the line at 41:00.0, leaving him 8:56.7 behind the leader with only 2.5K to go. With .6K to go Murphy remained in 84th place with a time of 48:58, before crossing the line in the time of 49:19.9, he finished 10:50.2 behind Dario Cologna from Switzerland, who won the gold medal.
Chef-de-Commission Chuck Millican said, "It was a really good effort by Murphy, the snow was very soft due to the temperature."
Read More About