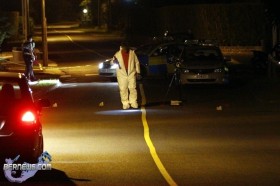 A 24-year-old Sandys parish resident was arrested this evening [Sept 24] in connection with the murder of Lorenzo Stovell.
The suspect's gender was not released, with the police statement referring to the person as a "resident" and "subject."
Mr Stovell was murdered last night while sitting outside Woody's in Sandys. He and several female friends were on a "party bus" when they stopped at Woody's.
Mr Stovell — who was partially paralyzed due to a previous shooting and used a wheelchair — remained on the bus while his friends went inside to drink, and after about an hour the suspect[s] approached the bus and fatally shot him, escaping on a motorcycle.
The full police statement is below:
The Bermuda Police Service has taken a 24 year old Sandys Parish resident into custody in relation to the murder of Lorenzo Stovell. The subject was arrested early this evening by officers from our Armed Response Units.

Investigations are continuing as we continue to progress the evidence in this case. We will continue to keep the public updated on the progress of this case, and urge anyone with information to come forward to assist in bring the offender(s) to justice.
Read More About