On 29th May 1916, over 100 Bermudian men who had belonged to the Bermuda Militia Artillery left Bermuda to go to the UK to join in the Great War against the Germans. Before departing Bermuda each man had to agree to volunteer to serve as a member of the Royal Garrison Artillery. By doing this, they effectively left the BMA and joined the UK's Royal Garrison Artillery.
Once this had happened, this group were designated as the "Bermuda Contingent Royal Garrison Artillery". Their military acronym was BCRGA. They arrived in the UK and were formally added to the strength of the British Army on 10th June 1916. They landed at Boulogne in France on 20th June 1916.
The grave of Bermudian William Edward Easton who was killed in 1917: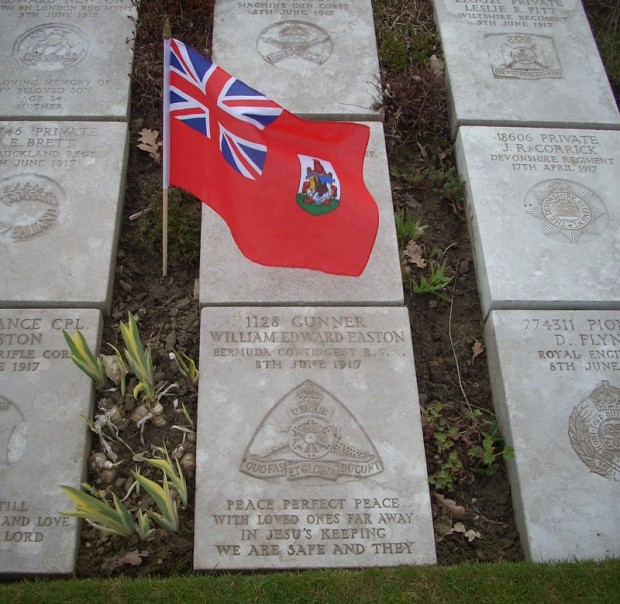 Their principal employment was as ammunition supply troops. They were tasked with receiving, storing, and despatching artillery ammunition to forward elements of the Royal Artillery who handled the guns that fired on the German lines.
In a world before forklifts and other mechanical and labour saving devices, their work was brutishly heavy but vitally important. The 1914 – 1918 war is often described as the 'war of the guns' because the war was characterized by the duration and fierceness of the barrages laid down by the artillery.
The grave of Bermudian William Augustus Conder who was killed in 1917: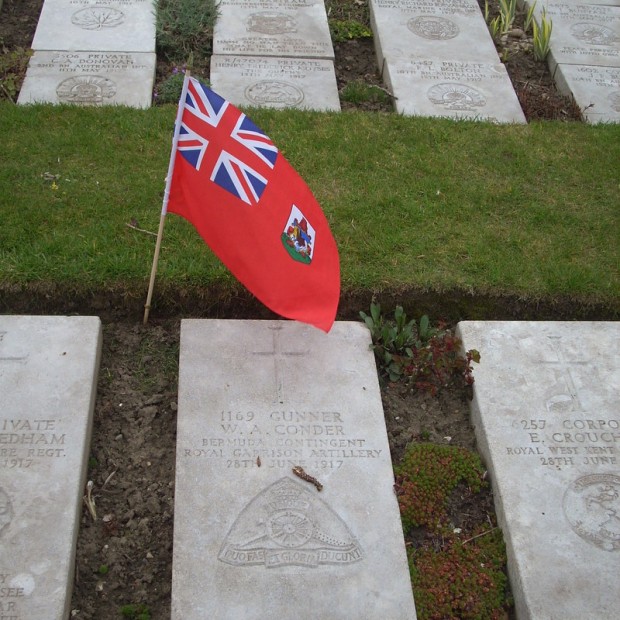 Millions of artillery rounds were fired. Every round had to be manhandled through several stages on its long and often dangerous journey on the way to the guns that waited to fire.
Gunners William Augustus Conder and William Edward Easton were two men of the BCRGA. Both died during their service in France. Condor on 28th June 1917. Easton on 8th June 1917. Of the nine men of the BCRGA who died whilst on active service, only these two lie in the same cemetery.
The Boulogne Eastern Cemetery, with the two Bermudian's graves marked with the Bermuda flag: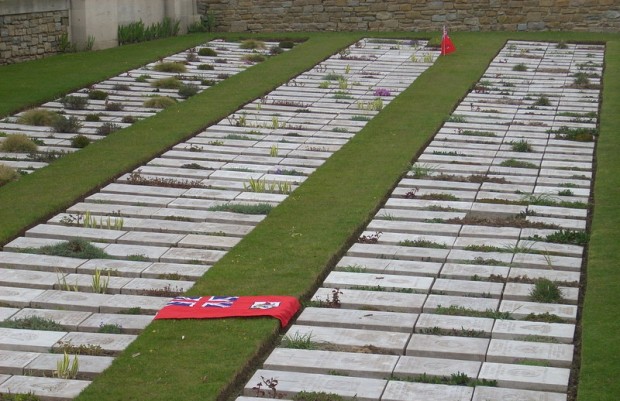 The inscription on Gunner Easton's headstone shows that his family in Bermuda sent their personal tribute to the soldier and, as was the custom, this was inscribed on his headstone.
In the well-kept Commonwealth War Graves Commission British Military Cemetery at Boulogne Eastern Cemetery, Boulogne-Sur-Mer, France; the two men lie separated by soldiers from other countries.
Read More About