The PLP hosted a press conference yesterday [Nov 19] at the Sylvia Richardson Care Facility in St George's, where both Health Minister Zane DeSilva and two senior citizens spoke about the benefits of FutureCare.
Minister DeSilva said: "We are pleased to be here today at the wonderful Sylvia Richardson Care Facility. Since 1998, the PLP have stood strong for seniors by increasing pensions, eliminating land tax on primary homestead, driving down the cost of prescription drugs, eliminating upfront payments on medical treatment, introduced FutureCare and much, much more.
"Today I am with some of the pillars of Bermuda, people who have helped to build our country and who in their golden years we have kept always in our thoughts and in our vision for Bermuda.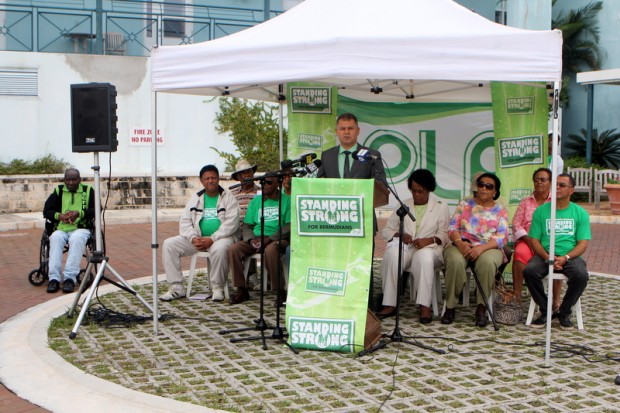 Minister DeSilva continued: "These are the people we are fighting for, the people who stand to lose the most if we allow FutureCare to be scrapped. These are the people who don't want to go backwards to the way it used to be. These are people who want us to keep moving forward on making the lives of seniors better, safer and less stressful.
"The OBA continues to say one thing today – another thing tomorrow. One day they support our seniors and FutureCare, and the next day they are standing against our seniors and FutureCare," Minister DeSilva continued.
"The OBA's Anthony Francis has stated, 'The current model of Future Care will be scrapped because it is unfair and unsustainable.' The inexperienced OBA's Andrew Simons says 'the OBA supports Future Care.'
"On Future Care, the former UBP MP spokeswoman on seniors, the OBA's Louise Jackson says 'It has got to be means tested as it is not fair.' Mrs. Jackson has also said many times in House of Assembly that FutureCare needs to be gone! As has her colleague former UBP leader Grant Gibbons.
Minister DeSilva continued: "OBA Deputy Leader and Former UBP Leader Michael Dunkley says 'Seniors enrolled in Future Care will see no change in their benefits.' OBA Leader Craig Cannonier says 'Austerity isn't such a bad idea.
"Who is really in charge over there and is the OBA more concerned with gaining power than standing strong for our seniors? Will they cutback benefits for our most vulnerable seniors or will they decrease premiums for the wealthy?
"I don't know and you don't know because they continue to duck, dodge, hide and run from giving the people of Bermuda their real plan," concluded Minister DeSilva.
Read More About