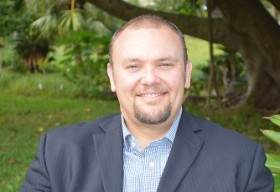 Independent candidate David Petty — who is running in C#20 Pembroke South West — said if he is elected he will establish a "Constituency Committee" of industry sector experts to advise him, and they will also have the power to recall him.
The incumbent C#20 MP Louise Jackson [OBA] is retiring, and her daughter Susan Jackson will stand for the OBA.
Marcus Jones will stand for the PLP, while Independent Johnathan Starling will also contest the area. Considered by many to be a safe seat, Mrs Jackson earned over 80% of the vote in the 2007 and 2003 elections.
Mr Petty said: "It has become increasingly clear to me during my canvassing that C20 constituents are deeply unhappy with being taken for granted by the political parties and in having little influence in the running of the country other than when they vote.
"In answer to this concern, I commit, should I be elected to represent Pembroke South West on Monday 17th December, that I will immediately establish a Constituency Committee of industry sector experts to not only advise me of constituency concerns, but to effectively act as my "boss", by having the power of recalling me as the MP for C20.
"In other words, if that committee were to unanimously decide that I was not doing my job as an MP appropriately on behalf of the constituents, I commit to immediately putting myself up for a bi-election.
"I will not be looking for "yes men" for this committee. The members of such a committee need not even like me personally. The key qualification is that they are recognised as being absolute experts in their industry sectors and be the best qualified to represent the interests of the constituents of C20.
"For too long have we Bermudians had little or no say, other than a vote every five years or so, in how we are governed. I want to empower my constituents to be able to do so and believe that this is an appropriate place to start that journey," concluded Mr Petty.
The 43-year-old has released his full platform which can be read here.
Read More About