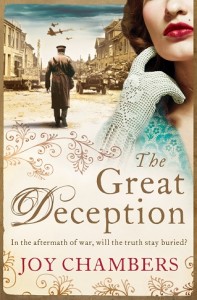 Home for the holidays, Bermuda resident and author Joy Chambers will be on hand at the Bookmart on Saturday [Dec 15] for the launch of her latest novel – The Great Deception.
This month marks 30 years that she and her husband have been living on the island. They've been resident in Tuckers Town and although they're selling their house, they have no plans of leaving.
"We're just moving house," Mrs Chamber told Bernews. "Bermuda is very much our home I do all my writing here. This is where my Shetland dog is so it is definitely home," she added.
The Great Deception is her sixth novel and a departure from what she normally writes.
"It's a mystery thriller and I normally write sagas about families, so writing it was quite a different experience for me," she said. "But the feedback from my readers is that they like it," she added.
Set in Holland during the Nazi occupation in World War II, the story is of a secret agent who impersonates a Nazi colonel, enabling him to send valuable intelligence to allies in London.
"I just got the idea one day. I had never known it to happen but it seemed interesting and so I explored it," she said.
While it is clearly a work of fiction, Mrs Chambers has paid close attention to the accuracy of the era her story is set in.
"I've been writing for over 20 years and it usually takes me about three to four years to complete a book. That's largely because I spend a lot of time doing research," she said.
The Great Deception was no different and she said she spent close to three years working on it.
Mrs Chambers will be on hand from 11a.m. to 2:30 p.m. to chat informally and sign copies of her book at its Bermuda launch this Saturday at the Bookmart in Brown & Co. in Hamilton.
Read More About
Category: All, Entertainment