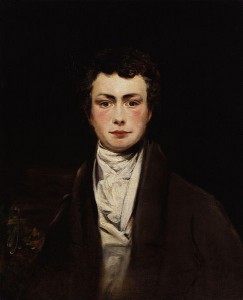 Thomas Moore, his name long memorialised by a restaurant operated at the Hamilton Parish property which was once his favourite local haunt, has been called the "true poet of Bermuda."
Described as "sentimental and humorous", local  historian William Zuill wrote in his book "Tom Moore's Bermuda Poems" that the "charming Irishman, who spent a few months in Bermuda in 1804, would probably be surprised to know how fondly he is remembered here [in Bermuda] … among the many famous people who have written about the island, not one — in Bermuda a least — has the perennial fame of [this] merry, romantic young man …"
Considered Ireland's national bard in the same way Robert Burns is Scotland's once-and-future poet laureate, Dublin-born Tom Moore [1779–1852] came to Bermuda from Virginia in 1804 aboard a Bermuda-built sloop to take up the post of Registrar of the Court of Vice-Admiralty [the passage was apparently turbulent -- "Oh, what a tempest whiri'd us hither," he wrote to George Morgan, an attache of the British Consulate at Norfolk, by way of describing his stormy voyage to Bermuda].
But once he was established at his St. George's residence, it's clear Moore — who had already published and performed many of the ballads which established his early reputation — had become instantly enamoured of Bermuda.
"These little islands of Bermuda," he wrote in a letter on January 19, 1804, "form certainly one of the prettiest and most romantic spots that I could ever have imagined, and the descriptions which represent it as like a place of fairy enchantment are very little beyond the truth.
"From my window now as I write, I can see five or six different islands, the most distant not a mile from the others, and separated by the clearest, sweetest coloured sea you can conceive; for the water here is so singularly transparent, that, in coming in, we could see the rocks under the ship quite plainly. These little islands are thickly covered with cedar groves, through the vistas of which you catch a few pretty white houses, which my poetical short-sightedness always transforms into [ancient Greek] temples …"
In a poem he composed shortly after his arrival here and also sent to George Morgan, Moore attempted to capture the fairyland-qualities he discerned in Bermuda in a series of vivid word pictures.
But bless the little fairy isle!
How sweetly, after all our ills.
We saw the dewy morning smile
Serenely o'er its fragrant hills!
And felt the pure, elastic flow
Of airs, that round this Eden blow.
With honey freshness, caught by stealth.
Warm from the very lips of health!
'Oh! could you view the scenery dear.
That now beneath my window lies,
You 'd think, that Nature lavish 'd here
Her purest wave, her softest skies.
To make a heaven for love to sigh in.
For bards to live and saints to die in
Close to my wooded bank below
In glassy calm the waters sleep.
And to the sun-beam proudly show
The coral rocks they love to steep
Memorial to the Irish poet Thomas Moore in St. George's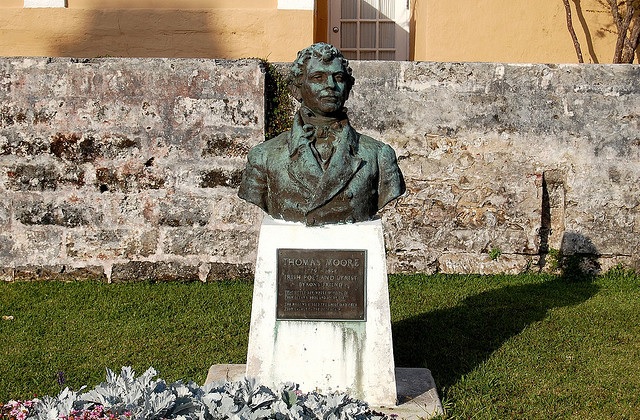 'The fainting breeze of morning fails.
The drowsy boat moves slowly past.
And I can almost touch its sails
That languish idly round the mast.
The sun has now profusely given
The flashes of a noontide heaven.
And, as the wave reflects his beams,
Another heaven its surface seems!
Blue light and clouds of silvery tears
So pictured o'er the waters lie
That every languid bark appears
To float along a burning sky …
But it wasn't the romantic scenery alone which stimulated Moore's poetic fancy. His most celebrated Bermuda poems are a cycle of romantic odes addressed to Nea [identified as Hester Tucker of St. George's, the object of Moore's unrequited affection while he was on the island].
"Moore's boyish heart — he was only twenty-five — was touched, as some believed, or perhaps merely fluttered, by Nea — Hester Louisa Tucker, the fascinating young wife of William Tucker of St. George's," said historian Walter Brownell Hayward. " … His harmless attentions to Mrs. Tucker succeeded in arousing the jealousy of her husband, and it's related of the latter that he religiously excluded his rival's works from his house."
Another early 20th century historian related that "many still living remember Mr. Tucker as a man of imposing person and of fine character.
"Moore's traditional remark that when he gazed on 'Nea' he thought of heaven, but when he looked at her husband he thought of the devil', can be set down to mutual — and comprehensible — prejudice."
The final verse in the Nea cycle referencess the calabash tree near the Trott family home "Walsingham" — now the site of Tom Moore's Tavern — where he is believed to have written many of his Bermuda poems.
The day-light is gone — but, before we depart,
Here's a brimmer of love to the friend of my heart,
To the friend who himself, is a chalice, a bowl
In which Heaven has pour'd a rich bumper of soul!
Twas thus, by the shade of a calabash-tree,
With a few, who could feel and remember like me.
The charm, that to sweeten my goblet I threw.
Was a sigh to the past and a blessing on you!
"Walsingham", famous for hospitality, belonged for generations to the descendants of Perient Trott, an English merchant who in 1664 was appointed as a local representative of the London-based  Bermuda Company which established the first permanent settlement here 52 years earlier.
"The house stands, looking out across Castle Harbour, on a neck of land traversed by the highway from Hamilton to St. George's," said Thomas Moore biographer J.C.L. Clark writing in 1909. "Through an avenue of cedars one approaches the ancient homestead, near the shore, between two mangrove-bordered lakes.
Post-World War Two advertisement for Tom Moore's Tavern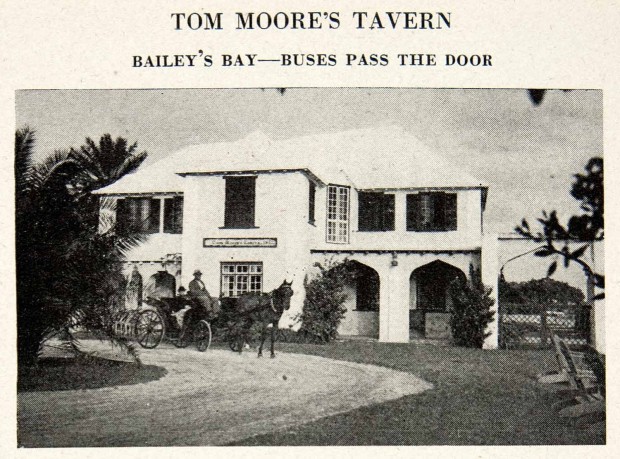 "From the house a foot-path leads through wooded grounds. Here the coffee-tree and the cherry, the lemon and the orange, mingle with the everywhere present cedar and oleander, and the myrtle clambers where it will. Tiny lakelets give back the blue of the summer sky. One may enter mysterious caverns, where the guide sets fire to a handful of dry palmetto leaves, and one sees, festooned with icicle-like stalactites, which deep, limpid pools reflect, long galleries winding away underground."
The grounds of the property are now the site of the Walsingham Nature Reserve — or Tom Moore's Jungle as it is more commonly known in Bermuda.
His fondness for the island — and Hester Tucker — notwithstanding, in April, 1804 Tom Moore abruptly left Bermuda having " become thoroughly disgusted with his office, which gave him a pittance instead of the handsome income he had expected."
Historian Hayward said: "Unfortunately, he placed his affairs in the hands of a dishonest deputy, who embezzled several thousand pounds, for which the poet became responsible …
"Fear of imprisonment kept him out of England for two years, but the matter was compromised and Moore actually retained the office of registrar until 1844, the authorities then concluding that forty years of continued absence from Bermuda was sufficient reason for them to supersede him."
After leaving Bermuda, Moore dramatically changed his style of writing and focus. Following a request by a publisher he wrote lyrics to a series of Irish tunes in 1807-08, in collaboration with John Stevenson, which were published in several volumes.
Tom Moore remains best known for these "Irish Melodies" which were enormously popular and included songs such as "The Minstrel Boy", "The Last Rose of Summer" and "Oft, in the Stilly Night."
Read More About
Category: All, Entertainment