Although he may be best known today as the father of Trappist monk Thomas Merton — whose highly influential autobiography "Seven Storey Mountain" [1948] prompted thousands of World War II veterans, students and even teenagers to flock to monasteries across the US — New Zealand-born artist Owen Merton [1887–1931] was an accomplished Post-Impressionist painter who did some of his best work in Bermuda.
Primarily celebrated for his watercolours, landscapes, and seascapes, Owen Merton's paintings are on permanent display in galleries around the world, most particularly in England and New Zealand, where a major retrospective of his work was displayed in 2004..
Moving to Europe as a young man Mr. Merton and his wife Ruth lived from mid-1914 to mid-1916 in Prades, southern France, where their first son, the future mystic Tom, was born in 1915.
Mr. Merton played the piano in charity concerts and perhaps in the local cinema and refused to enlist after the First World War [1914-1918] broke out.
The family moved to New York in 1916, and Mr. Merton was based there until 1923. His second son, John Paul, was born in 1918 and Ruth Merton died in 1921.
He exhibited in numerous group and solo shows, including some important curated exhibitions, in New York and Philadelphia in the period 1917-1925 and was clearly considered by his peers to be a serious member of the New York avant-garde.
Owen Merton, "Somerset Bridge, Bermuda" [1922]

In the years 1921-3, after his wife's death, he visited Bermuda twice. He was given a solo exhibition in the prestigious Daniel Gallery, New York, in 1923.
Meanwhile he had met the American writer Evelyn Scott in Bermuda, in late 1921 or early 1922, and lived with her until 1925. He became the basis for characters in several of her novels.
After a brief visit to New York in the summer of 1925, he returned to Europe for the last time, accompanied by Tom.
They settled in Saint-Antonin, south-western France, where he bought land and built a house.
Owen Merton, "St. George's, Bermuda" [1922]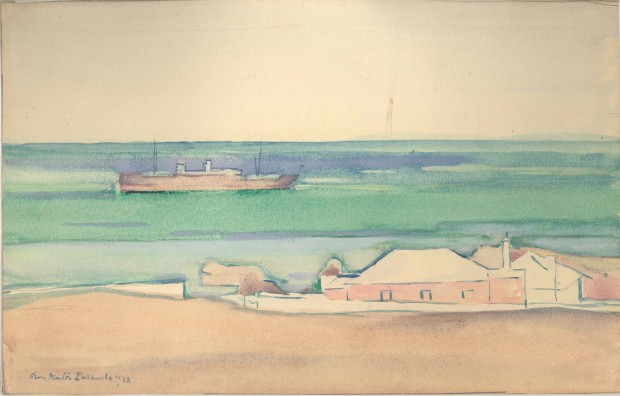 He held a solo exhibition in London in 1928 and was based in England thereafter although he made at least three short visits to France. Owen Merton died in London in 1931 after a prolonged illness.
"To my eye Merton's work is reminiscent of Cezanne, Whistler and Gauguin, possessing a simplicity of design that is at times nearly Asian," one art historian has said of his paintings. " … I [also] sense Van Gogh's influence.
"Lovely in their own right, Owen Merton's landscapes also provide a fascinating visual history of the world of the young Thomas Merton and his family in France, the United States and Bermuda."
His son's autobiography — ranked as the one of the hundred best non-fiction books of the 20th century by "National Review"  magazine — alludes to Owen Merton's life and work and the time the family spent in Bermuda.
Read More About
Category: All, Entertainment, History