[Updated] Chris Fertig and Tyson Garvin roared into Bermuda at 12.39am today [Aug 22], with their time of 15 hours and 48 minutes breaking the Bermuda Challenge record.
The two powerboat racers left New York just before 9am Bermuda time on Wednesday morning hoping to break the old 17 hour record for the fastest ocean crossing from New York to Bermuda.
Traveling in their Skater 399 powered by twin Cummins diesels and Arneson Surface Drives, the pair encountered their first issue around 70 miles into the journey, stopping the boat to fix a propeller just before 10am.
Arriving in Bermuda at around 12.40am: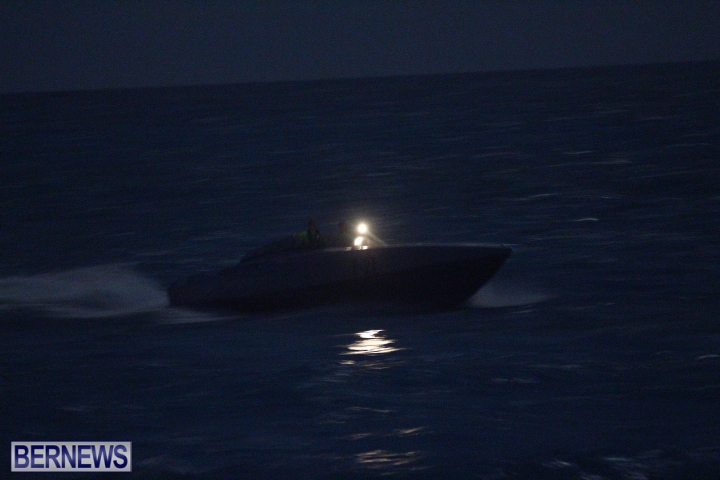 The repair process, which involved the driver jumping overboard, lasted for approximately 30 minutes. At 10.20am they got back underway, with a live webcast of their journey being streamed online.
They were traveling at speeds of around 50 miles an hour when they encounted another issue about 650 miles into the race at 9pm. With approximately 100 miles to go, they stopped the boat again, but got underway again a few minutes later.
They completed the final stretch of the race, passing the finish line in St George's at 12.39am, 15 hours and 48 minutes after beginning their journey.
The Bermuda Challenge begins at the Statue of Liberty in New York City and finishes at the sea buoy in St. Georges, Bermuda, and encompasses a journey of over 750 miles.
Created by Boating Magazine in 1994, the first run was in 1996 and took 37 hours. In 1997 the time was cut to 29 hours and 30 minutes, and in 2002 the record was broken again by Bermuda's Dr Neil Burnie.
In 2012 Fertig and Tyson Garvin became the Bermuda Challenge champions for the first time with their time of 21 hours and 39 minutes setting a new record.
They only held the record for a few weeks as they were bested by an Italian team led by Fabio Buzzi who set a new time of 17 hours, traveling in a boat used by the Italian Army special forces.
However, with today's record breaking journey, Fertig and Garvin regain the record for the second time. As of this writing they are heading to Ordance Island to clear customs and we will update with additional information and footage as able.
Update 12.59am: They have arrived at the dock, where there was a few dozen people gathered to greet them.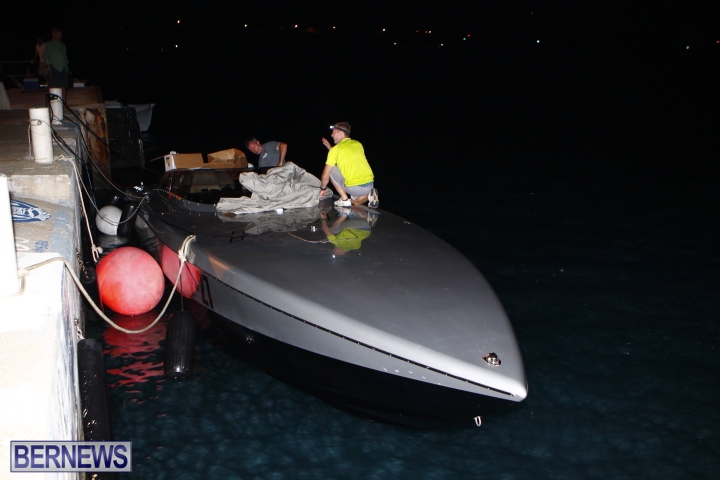 Update 1.45am: Celebration time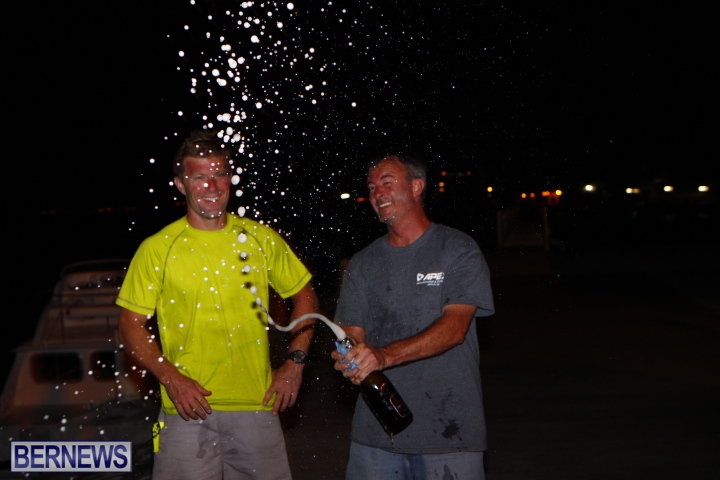 Update 11.34am: You can watch a 15 minute video interview with the racers here, where they discuss the technical challenges in the race.
Read More About