[Updated with video] At 8:09am this morning [Aug 5] Chris Fertig came roaring into Bermuda from New York aboard his 37-foot boat, with his time of 21 hours and 39 minutes setting a new record for the 760 mile ocean crossing. On the boat with Mr Fertig was his good friend and 'throttle man' Tyson Garvin from Missouri.
John Trimingham was on scene as the timekeeper, and Mr Fertig's sister Kathy Hendrickson flew in from DC yesterday afternoon and was present this morning to greet him. St George's Mayor Kenneth Bascome was also on scene to greet the arriving speedboat.
Chris Fertig in St George's: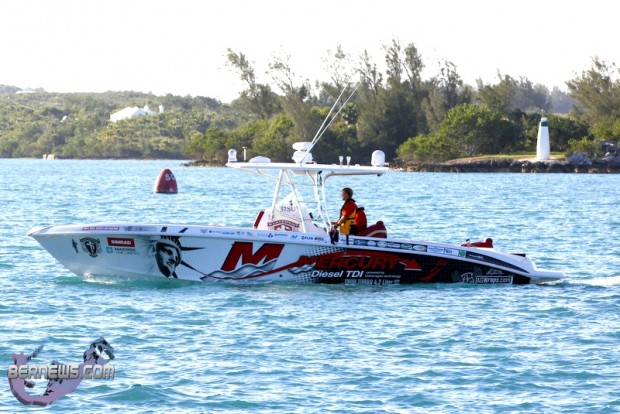 Mr Fertig, who is from Virginia, was aboard his Statement Marine 37 powered with twin diesel Cummins MerCruiser TDI's and averaged a speed of around 35mph during the 780 mile open ocean transit from New York City to Bermuda. He had previously attempted the run last year, but had to turn back due to inclement weather.
Chris Fertig being greeted by his sister Kathy Hendrickson: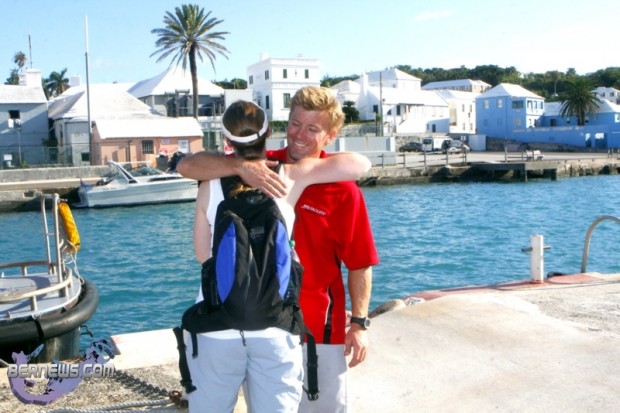 Created by the Boating Magazine in 1994, the Bermuda Challenge is an offshore powerboat endurance race which begins at the Statue of Liberty in New York City and finishes at the sea buoy in St. Georges, Bermuda.
Chris Fertig, his sister Kathy Hendrickson and timekeeper John Trimingham: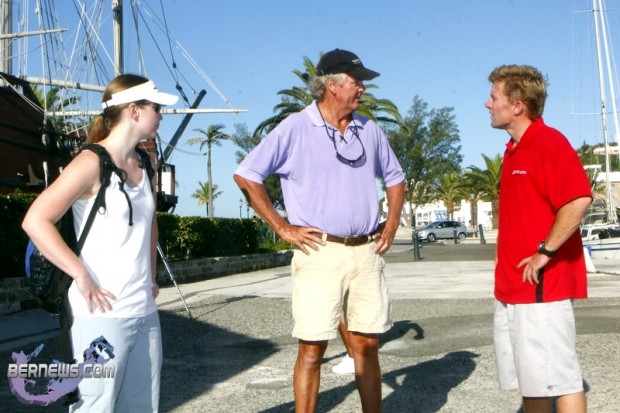 The first run was in 1996 by Larry Graf in his Glacier Bay 260 Canyon Runner with twin Honda 90s, and was completed in 37 hours. In 1997, a World Class 266 SF catamaran powered by Mercury Optimax 150s cut the time to 29 hours, 30 minutes.
Video interview with Mr Fertig at the finish:
The previous record was set by Bermuda's Dr Neil Burnie in 2002 aboard a Renaissance Marine Prowler 302 in 2002.
Update 11.17am: You can view a photo gallery of the speedboat leaving New York here.
Click to enlarge photos:
Read More About