Chris Fertig and Tyson Garvin roared into Bermuda at 12.39am on Thursday [Aug 22], breaking the Bermuda Challenge record with their time of 15 hours and 48 minutes.
Traveling in their Skater 399 powered by twin Cummins diesels and Arneson Surface Drives, the pair encountered broken propellers twice on the journey, stopping the boat to replace them with spares carried on board.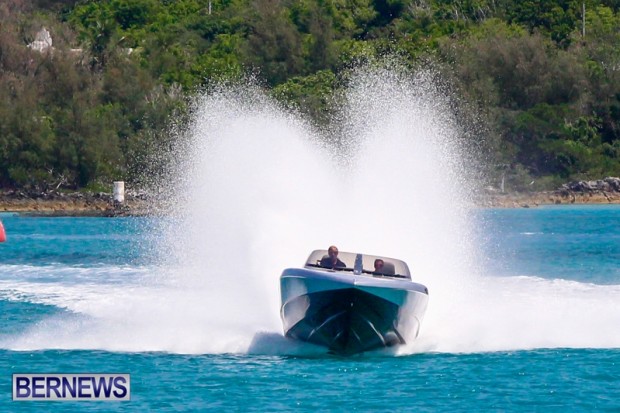 Later on Thursday after resting from the physically grueling trip, the pair invited onlookers a closer look at the boat berthed at the Bermuda Yacht Services dock in St George's. Spectators were thrilled and watched in excitement as the Offshore Endurance craft was taken for a high speed demonstration ride in the harbour.
Bernews was invited to accompany the duo on a post-race assessment run which saw the boat travelling through Ferry Reach and along North Shore, rounding Dockyard on our way to Pompano Beach. The return trip took us through Ely's Harbour, under Somerset Bridge, into the Great Sound and back down North Shore.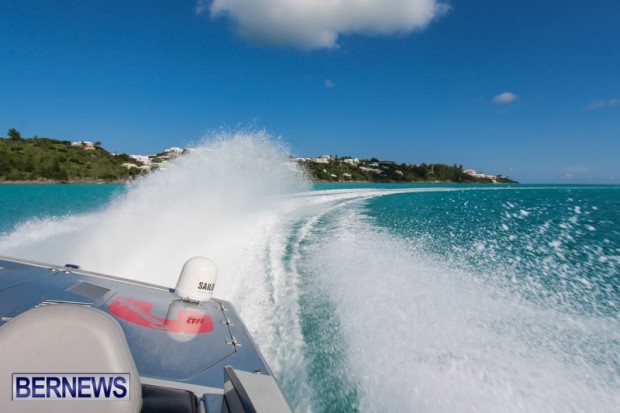 Although initial plans had Mr Fertig and Mr Garvin returning to the U.S. on the boat, those plans have been delayed with the loss of the two propellers. The pair have decided to fly home and return at a later date with the spare parts needed to drive the boat back to the United States.
The Bermuda Challenge begins at the Statue of Liberty in New York City and finishes at the sea buoy in St. Georges, Bermuda, and encompasses a journey of over 750 miles.
Created by Boating Magazine in 1994, the first run was in 1996 and took 37 hours. In 1997 the time was cut to 29 hours and 30 minutes, and in 2002 the record was broken again by Bermuda's Dr Neil Burnie.
In 2012, Mr Fertig and Mr Garvin became the Bermuda Challenge champions for the first time with their time of 21 hours and 39 minutes setting a new record. They only held their first record for a few weeks as they were bested by an Italian team who set a new time of 17 hours.
Click photos to enlarge:
Read More About