Tyler Butterfield earned a prestigious top 10 finish at the Ironman 70.3 World Championship in Las Vegas, Nevada on September 8th. The race served as a final test and tune-up in his competitive campaign for the Ironman World Championship on October 12th in Kailua-Kona, Hawaii, Butterfield's "A" race for the 2013 season.
The opportunity for Butterfield to compete in Las Vegas came as a bonus benefit to a series of well-executed races. After completing three Ironman 70.3 events during the Ironman World Championship qualification period, he was pleased to make the cut for both world championships. And while the Kona race remains Butterfield's main focus, his goal in toeing the line in Las Vegas was two-fold–to serve as a gauge for his Kona training and to stockpile valuable qualification points for both 2014 championship races.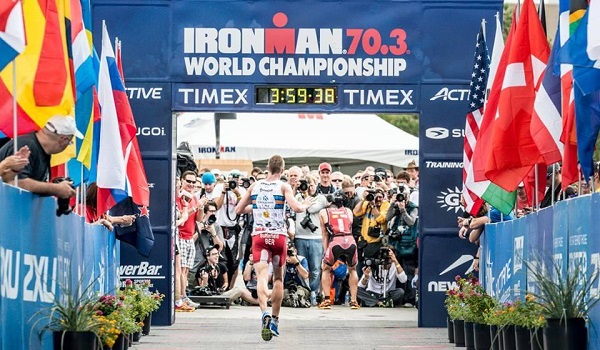 Going up against the world's best Ironman 70.3-focused athletes, Butterfield set his sights on a top 10 finish in Las Vegas, field-testing and fine-tuning his race equipment in order to ensure the best possible performance. He traveled with friend and training partner Tim Don, a dark horse favorite for the win and an ideal companion in that his preparation was equally meticulous yet his demeanor remained calm during race week. Unfortunately Don's race hopes were shattered by a flat tire a few miles shy of T2.
The roommates awoke on race morning to a deluge of rain, but neither was deterred by the inclement weather; they simply made mental notes to maintain a certain degree of caution during the tightest turns on the bike course before heading to the swim start. Butterfield exited the swim only a short way back from the race leaders and in contention with the main pack. Early on he helped bridge that gap on the bike, until one large group of rivals–all with podium potential–pedaled fiercely along the 56-mile course. Surges came and went, but only one man was successful in breaking away from the field–eventual repeat champion Sebastian Kienle, who held onto his cycling advantage with a powerful run.
Entering transition fifth off the bike, Butterfield quickly changed into a running singlet designed specifically for the hot conditions of Las Vegas and Kona, a chance to test its cooling properties prior to the full iron-distance marathon in October. While he felt strong during the run, he knew that his speed was not quite on par with the athletes fully focused on the shorter distance races.
He didn't let this deter his confidence, however, and sure enough his endurance acumen served him well in the latter miles of the half-marathon. Although sitting in 11th place heading into mile 13, Butterfield summoned his strength for a final surge and ultimately finished ninth.
"I was happy to achieve my top 10 goal, but I was not as happy with how much it hurt and the uncomfortable effort I had to put in during the race," said Butterfield afterward, reflecting on the highly competitive field of 70.3-specific athletes. With less than five weeks remaining in the build to Kona, Butterfield will execute a training program precisely aimed at final improvements for the long-course race, with the hope of achieving another top 10 finish at the sport's pinnacle event.
Read More About