[Written by Kristen Taylor] Christmas is so busy for most of us. We rush around frantically picking out the "perfect gift" for our loved one, grabbing the Christmas dinner ingredients at the grocery store; patiently [or not] waiting in long lines to purchase everything we feel we need to have a perfect Christmas.
But not all families can afford to provide their children with the "perfect" Christmas dinner, presents, or even regular toiletries. That's where the Christmas Store comes in. Cornerstone Foundation has, for the second year in a row, organized and ran a Christmas Store for those who find themselves in financial need.
Not as charity, this was not a second hand store, but as a discount store providing brand new items at greatly discounted prices. Needed staples such as toilet paper, paper towel and food items, also household items like bedding and even toys were displayed on tables for sale.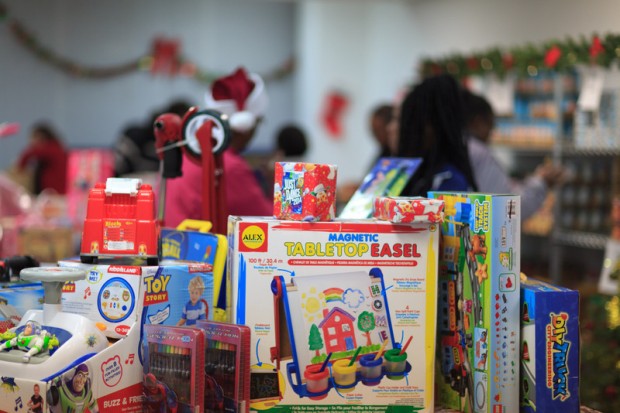 Over 110 families were invited to participate in the Christmas Store this year and they were greeted with the joyful and excited faces of volunteers ready to serve cupcakes and cookies and help them with their purchases. Even offering rides home and help getting their purchases down the stairs.
The store was beautifully decorated and Christmas music played over the speakers as shoppers stopped at the Christmas tree to get their family picture taken and then moved on to take their items to the checkout where Mrs. Simons greeted them with a warm smile and sent them over to the four volunteers that were offering free wrapping for all the presents.
There was a puppet show, a play corner for small children, and the Prayer Band stood ready to pray for anyone who felt a need for prayer. Before they left each customer was invited to attend a Cornerstone service. Since the invitations to the Christmas Store included a time slot, only about 15 people at a time were shopping which made for a nice, calm atmosphere—no rush or impatience. One shopper described her experience as "surprising".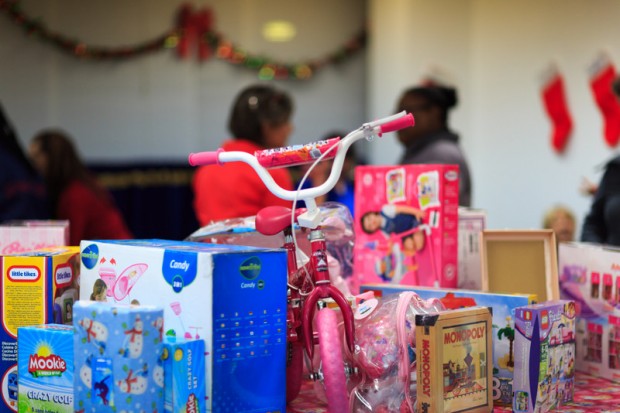 She really "didn't expect prices to be so low". She said the experience was "truly a blessing" and that she was grateful that she could purchase items that would provide for her family into the New Year. Everyone left with a smile on their faces, goodies in their hands and heads held high.
The experience was not only a blessing for the shoppers, but for the volunteers as well. It was amazing to watch the dedication and joy displayed as the volunteers made sure everything and everyone was taken care of in the best way possible.
One volunteer said, with a huge smile on her face, "If you don't help out you miss out". Another volunteer had read about the Christmas Store in the newspaper and decided that she had to step forward so she called up the Cornerstone Foundation with a desire to help wherever she could.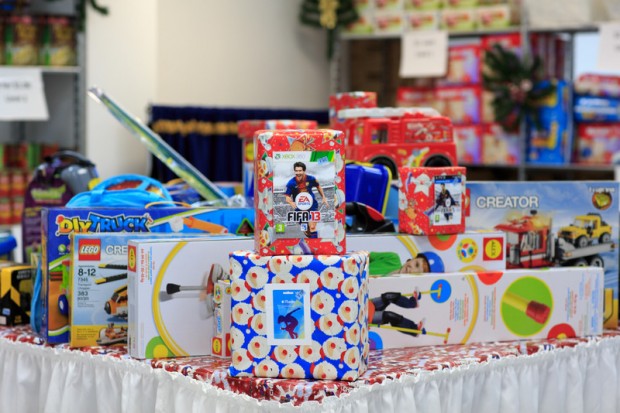 She said the Foundation's dedication to helping those in need was "Above and beyond what I could expect…Speechless". She said she saw firsthand how it "lifts people's spirits" and is a real "hand up" and she felt that "just being here and seeing the people's faces is rewarding".
She also mentioned that this experience has inspired her to help with any other charity events that the Cornerstone Foundation puts together because she truly appreciates how this event helps people enjoy their holiday. Over at the cash out station, Mrs. Simons says that for her, volunteering is "a real joy when you know you're helping someone else…a good feeling being part of the team".
Sherry Swan, added that it is "always encouraging to be able to see the smiles and happy faces as they look at the prices of our food and toys in disbelief".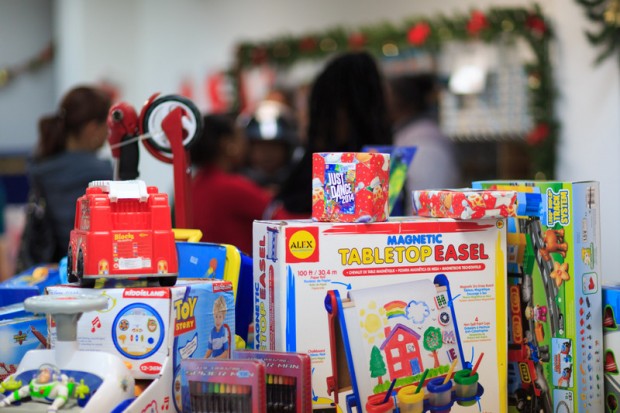 "I am so thankful for Mary Samuels who serves as Vice President for the Cornerstone Foundation and the concept she had of Christmas Store in 2012 last year. It proved to be a great success over 100 families were able to shop for their children and families without losing their personal dignity because although greatly discounted it was not free.
We experienced the same success this year. The Foundation has taken the stand that most times when we give out things for free it breeds a sense of entitlement and dependency in our culture that is hard to change. As a result we are able to give people and "hand-up" which is better than just giving a "hand-out".
I am so thankful for the 50 volunteers that willing served to make this a great success" stated Pastor Gary Simons, President of the Cornerstone Foundation.
If you would like to know more about the Cornerstone Foundation and keep up to date on what is going on, visit us on Facebook. Our new website is under construction.
- Kristen Taylor
Read More About
Category: All