On Friday [Dec 13] two petitions with thousands of signatures were presented to former Minister of Environment & Planning Sylvan Richards, asking the Government to look at the present laws pertaining to banned breeds of dogs.
The situation was spotlighted recently due to the case of "Hershey", a pitbull puppy who was put down following a campaign to save his life, with an online petition reaching over 2000 signatures.
Hershey had not attacked anyone or done anything wrong, but came to attention after being stolen and recovered by officials. The Government said as he was "an illegal dog" he could not be returned.
Ms Gina Davis said she hopes other pet owners don't have to suffer the same fate, and said while she recognises everyone has a job to do and that there are laws, changes could be made going forward.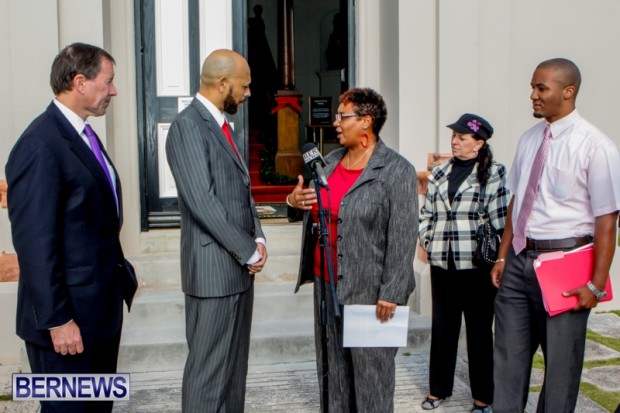 Mr Richards, who no longer holds the portfolio following last week's Cabinet shuffle, came out to greet Ms Davis on behalf of the new Minister of Environment & Health Trevor Moniz.
Mr Richards said that for the last seven months he was working with a Canine Advisory Committee who were looking at the island's dog policy, and set to recommend any needed changes. Mr Richards said he has brought Minister Moniz up to speed on the topic, and has encouraged him to continue the work.
Mr Richards said as the Minister he had to enforce the law, and noted that a close family member of his had a pitbull puppy put down as he "enforced the law without fear or favour."
He said he wanted to make sure the policy going forward is the right policy, and encouraged the group to stay in contact with Minister Moniz.
"I don't take pleasure in putting down anyone's dog," said Mr Richards. "My biggest fear, as the Minister, was that I would get a call one morning that a pitbull or another dog on the banned list, or even the restricted list, had attacked, maimed or killed a child. That's a call that I never wanted to take."
Mr Richards said he knew he would "take heat" for enforcing the policy, but said he would much rather "take that heat than heat from a family who have lost a child because a dog had killed their child."
"I didn't make the law," said Mr Richards. "I inherited it. I am going to continue to talk to the Minister, and I would like for your group to stay mobilized, stay active, until we can come up with a policy that works for everybody."
Read More About