[Updated with video/info] Premier Craig Cannonier is holding a press conference this morning [Dec 11], and while the topic was not officially released, it is widely speculated that the Premier may be announcing changes to his Cabinet.
The recent SAGE Commission report suggested cutting back Cabinet from 12 to 8 Ministers, and while everything remains speculative at this stage, suggestions are being made that the Premier may be planning to reduce Cabinet by 2 or 3 Ministers.
Update: The Premier reduced his Cabinet size by three, with Nalton Brangman [Education], Sylvan Richards [Minister of Environment & Planning] & Leah Scott [Minister Without Portfolio] all eliminated.
Update: 12 minute video of the press conference:
Although three Ministers were cut, one was without portfolio, leaving two Ministries to be combined.
Education & Economic Development are now combined under Dr Grant Gibbons, and Health & Environment are now combined under Trevor Moniz.
Dr Grant Gibbons will take on Education as an added responsibility, Pat Gordon Pamplin moves from Health to Public Works, while Environment & Health were given to Mr Moniz, the former Public Works Minister.
Chart of the of old and new Cabinet, click to enlarge: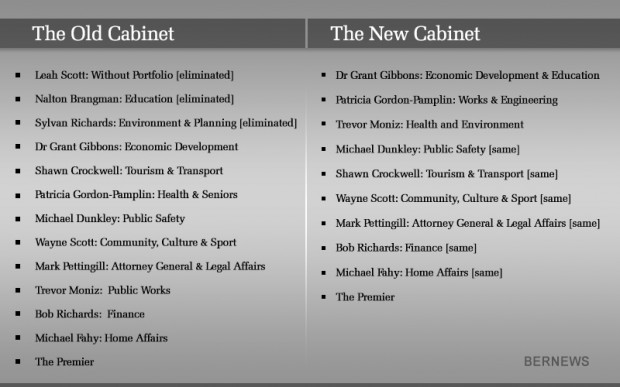 Update: The Premier's full statement follows below:
Good morning everyone,

It's been just under a year since I've had the privilege of serving as your Premier. In that time, I've had the opportunity to assess the very formidable challenges facing this country and formulate strategies for a better Bermuda and a more efficient government.

As you know, we've been busy and have made significant headway in:

• rebuilding the economic foundation to grow jobs and opportunities
• fortifying police operations to make safer neighbourhoods
• passing legislation to eliminate discrimination and expand fair treatment
• moving towards a Tourism Authority to revive that great industry

To name a few of our many accomplishments, but there's still much more to do and a longer way to go before we are out of the woods.

How we get there is through a term you've heard me mention many times – 'Shared Sacrifice'. I've also stated that tough decisions will have to be made to place Bermuda on the right trajectory.

As Premier, it is my responsibility to lead by example and make some tough decisions from the top down. Today, I will announce a decision that will produce a leaner, more effective and efficient Cabinet.

The changes reflect recommendations made by the UK National School of Government from 2011, my own observations over the past twelve months and indeed it will fulfill part of our platform promise.

We are making the tough decisions that the previous administration would not make. Today, this OBA government is fulfilling our promise.

These Cabinet changes are part of a process toward better governing and greater efficiency. We've got a very busy legislative year ahead of us.

We started the process of shared sacrifice and change earlier in the year when my Cabinet Ministers all took a 10% pay cut, effectively saving the Government hundreds of thousands of dollars.

Today, I would like to announce further changes for the Cabinet that will reduce the Cabinet from 13 to 10 and will take place with immediate effect and deliver further savings.

Ladies and gentlemen, without further ado, the Cabinet Ministers for this legislative year will be:

• Minister of National Security, Deputy Premier The Hon, Michael Dunkley, JP, MP
• Minister of Finance, the Hon. E.T. (Bob) Richards, JP, MP
• Attorney General and Minister of Legal Affairs, the Hon. Mark Pettingill, JP, MP
• Minister of Health & the Environment, the Hon. Trevor Moniz, JP, MP
• Minister of Education and Economic Development, the Hon. Dr. Grant Gibbons, JP, MP
• Minister of Works and Engineering, the Hon. Pat Gordon-Pamplin, JP, MP
• Minister of Tourism and Transport, the Hon. Shawn Crockwell, JP, MP
• Minister of Home Affairs, the Hon. Michael Fahy, JP
• Minister of Community and Cultural Development, the Hon. R. Wayne Scott, JP, MP

I would like to take this opportunity to publicly say "Thank You' to the following dedicated Members of Parliament, who will not be serving in the Cabinet at this time, but will serve in the following positions:.

• Sylvan Richards will now assume the role of Junior Minister for Home Affairs in the House of Assembly,
• Leah Scott who will assume the Junior. Minister for Education
• and Senator Nalton Brangman will continue to sit in the Senate and take on responsibilities as the Junior Minister for Tourism & Transport

These members have proven to be team players. I'm proud to say that their commitment to the government and the people of Bermuda remains unwavering and intact. I welcome their continued assistance and representation in their new roles.

It is important to understand that the process of identifying efficiencies will be an ongoing initiative for this Government. I want people to understand that we need to get better, that we need to face up to our challenges and make the required changes.

Each one of us has to also commit to making sure we do all we can to make Bermuda succeed, because the challenges confronting Bermuda are serious and real, and there should be no doubt about that.

Today's Cabinet announcement is a further demonstration of our commitment and respect to the prudent management of the public purse.
-
Live coverage is over, and the updates are below starting from the beginning:
Read More About