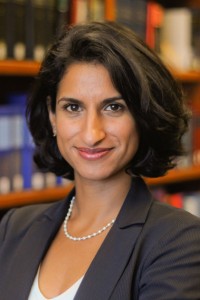 MJM Limited has announced that Fozeia Rana-Fahy has been appointed director of the company, effective February 24, 2014.
Ms. Rana-Fahy [pictured left] has been practicing commercial litigation at MJM since 2009. She undertook her legal training and early post qualification practice in the City of London where she specialised in reinsurance, shipping, and employment law.
Through her Bermuda practice, Ms. Rana-Fahy has gained extensive experience acting for both international and local clients in a wide range of complex disputes including corporate, banking, insurance, employment/immigration, insolvency, and high-value trust litigation cases. She routinely advises and gives presentations on topical issues for the banking, insurance, trust, and private client sectors in Bermuda. She also has a successful mediation practice.
"The directors of MJM Limited are delighted to announce Fozeia's appointment to the board, and we are looking forward to the valuable contribution she will bring to the growth and development of the firm," said Andrew Martin, director of MJM.
"Fozeia has demonstrated her skill and dedication to hard work for the firm's clients and brings clear-headed judgment to every situation," said Peter Martin, director of MJM. "Her confident, approachable, and entrepreneurial personality, coupled with her business acumen, make her a natural choice for the future direction of the company."
"Fozeia is known for delivering commercial and creative solutions for her clients and is well-liked locally and abroad," said Hil de Frias, director responsible for the private client practice.
Ms. Rana-Fahy successfully balances work with her young family, including a six-year-old and two-and-a-half-year-old twins. She has an avid interest in education and is an active member of the board of Somersfield Academy and its development committee.
Welcoming her to the board of MJM Limited, Alan Dunch, director of MJM, said, "Fozeia is a dynamic ambassador for our firm and is a role model for the future of the legal profession."
"I am very excited to join the board of MJM Limited, which is a progressive and forward thinking legal team, with a great opportunity to make a significant difference to the legal services sector in Bermuda, both locally and internationally," said Ms. Rana-Fahy.
Read More About