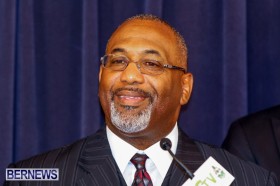 [Updated] Bermuda's Commissioner of Education Dr Edmond Heatley addressed the reports he was shortlisted for a job in the United States, saying he appreciates that there may be some who will question his commitment, however added that he remains "committed to the students of Bermuda."
Dr. Heatley, an American, took up the post in Bermuda on September 11, 2013; and recent news reports indicated that he was shortlisted for the position of Superintendent of the Orleans Parish School Board in Louisiana.
In a statement issued today, Dr. Heatley said: "I feel I should apologize for the last few days of press coverage. It is unfortunate the way this situation has played out in the media and cast a negative light on both my position and the good progress we are making in public education.
"I can confirm that I am a finalist in a superintendent search in Orleans Parish.
"This was not a proactive search by me; I was invited to apply and I did. I have not applied for any other jobs. My resume is not 'out there.' And frankly, I was also surprised that my name was announced publicly in open session, as a finalist by the search committee.
"Back in December when I allowed my résumé to be put forward, there were a number of major, and from my perspective, unsettling changes within the Ministry," continued Dr. Heatley.
"The PS had resigned, the Education Ministry had been merged with another Ministry and the Minister had been replaced. However, since then, I am pleased to report that I have built a very positive working relationship with the current PS and Minister.
"I appreciate that there may be some who will question my commitment. These would be people who do not see me work every day and who do not understand what it takes to move an education system in a progressive direction. I remain committed to the students of Bermuda and I remain committed to improving the Bermuda education system."
Update 3.09pm: The Bermuda Union of Teachers responded to Dr. Heatley's commments, with the BUT's response following in full below.
We accept the Commissioner's reaffirmation of his commitment to the public school system of Bermuda, and more specifically to the students who are the main reason why teachers participate in this tough but enjoyable work of shaping destinies.

It is quite understandable that under a cloud of possible uncertainty due to the radical changes at the Ministry that the Commissioner responded to an invitation in the Orleans School System.

We are still prepared to hold him 100% accountable to the initial commitment he has made to the people of Bermuda, which boils down to executing excellence in educational outcomes for our students and parents.

However, we are also mindful that our Teachers are expected to, and have always performed and acted professionally, in spite of the constant changes and upheavals around them. Teachers experience changes in Principals, changes in Permanent Secretaries, and an ever revolving door of Ministers.

More acutely, there has been an avalanche of changes in curriculum, policies, and initiatives, but our committed Teachers have soldiered on and continue to perform at the highest level imaginable. For this extraordinary display of visible perseverance, our Teachers deserve 1000 Cheers!

It is understandable that Teachers expect the same scope of devotion and resilience from all those who labor tirelessly in the painstaking task of nation building through public education.
Read More About