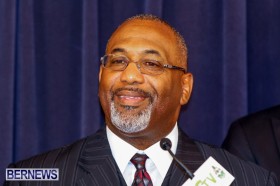 [Updated with videos] According to two U.S. news reports Dr Edmond Heatley — Bermuda's Commissioner of Education — has been shortlisted for the position of Superintendent of the Orleans Parish School Board in New Orleans, Louisiana.
Dr. Heatley, an American, took up the post in Bermuda around six months ago, on September 11, 2013.
When his appointment was announced in August of last year, Chairman of the Board of Education Curtis Dickinson said that in selecting the new Commissioner they had a "rigourous process" and reviewed some 70 applications.
Mr. Dickinson said, "Following a review of some 70 applications, a shortlisted pool of qualified candidates was interviewed and provided a presentation to the panel setting out how they would take the Bermuda public Education system forward.
"Out of that process, two candidates were brought to Bermuda and assessed through an independent provider assessing emotional intelligence, personality profile, performance management and leadership."
The reports say that Dr. Heatley is one of four people shortlisted for the job, along with Thomas Darden, D'Juan Hernandez and Kyle Wedberg.
The Times-Picayune reports that the Orleans board plans to conduct first-round interviews with the four candidates on Wednesday and March 20, with follow-up interviews March 24 and 25 if needed.
In an obvious reference to Bermuda as a destination, they also noted that at the announcement there were jokes made about how it's "absolutely necessary to interview that candidate in his current work environment."
The post on the Orleans Parish School Board website announcing the launch of the search for the new superintendent is dated October 23, 2013 — about 6 weeks after Dr. Heatley took up the post in Bermuda.
We asked the Ministry of Education for clarification this morning, and will update as able.
Update 12.14pm: We contacted a Louisiana news outlets seeking additional information about when this search began in light of Dr. Heatley taking up the post in Bermuda in Sept. 2013, and they indicated the search process for this position did not start before that time as the Orleans Parish School Board didn't even choose a superintendent search firm until September.
Update 3.02pm: While Education & Economic Development Minister Dr Grant Gibbons explained that Ministers don't get involved in staffing issues as they are handled by the technical officers, he did say that they just learned about this situation today.
Update 3.08pm: Shadow Education Minister Walton Brown said if these reports pan out to be correct, it suggests a lack of "firm commitment" to Bermuda students which is "disconcerting."
Read More About