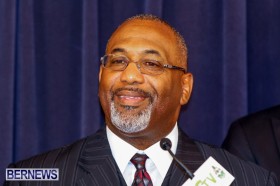 [Updated with video/statements/PLP response]
Dr. Edmond Heatley — an American educator who took on the post 7 months ago — has resigned as the Commissioner of Education.
Dr Lou Matthews, a Bermudian, will assume the role of Acting Commissioner upon Dr. Heatley's departure on April 30th.
Dr. Heatley took up the post in Bermuda in September 2013 and last month it was revealed that he applied for a job in the United States.
Further controversy arose when it appeared that on his application for the job he claimed to have "increased public education approval rates from 23% to 93%" while employed in Bermuda.
In addition, there appeared to be some possible discrepancy with how many jobs he may have applied for, with Dr. Heatley saying he applied for one job, while the application suggested he may have applied for two.
Shadow Education Minister Walton Brown called on him to resign, Independent MP Terry Lister said Dr. Heatley should be told to "get cracking", while School Principals who are represented by the BPSU declared a "vote of no confidence" in Dr. Heatley.
The press conference is still underway, and we will update with additional information/video as able.
Update 1.18pm:  The press conference is being hosted by Education & Economic Development Minister Dr. Grant Gibbons and Permanent Secretary Ross Webber.
Mr. Webber said he "received and accepted" Dr. Heatley's resignation today, and said Dr. Heatley will stay until April 30th.
Update 1.27pm: The press conference has just ended, we will have the full video up later this afternoon.
Update 2.46pm: Video of the full press conference is below. When asked by Dr. Heatley resigned, Mr. Webber said he did not give a reason. He was then asked if Dr. Heatley had not resigned would he be forced out, and Mr. Webber replied, "I believe that is moot at this point."
Dr. Gibbons' full statement follows below:
Thank you for coming today.

We would like to provide an update on the status of the Commissioner of Education.

As you will be aware, under Public Service Commission procedures, ministers do not play a role in the hiring, transfer or termination of civil servants – and are not involved in staffing matters.

Consequently I am going to hand over to Mr. Ross Webber, Permanent Secretary, who will explain the Ministry's position and the status of the Commissioner of Education, Dr. Edmond Heatley.

I'd like to conclude by saying that this has been a difficult situation over the last few weeks for everyone.

I am pleased the matter has been resolved and hope that we can now move on.

I look forward to working more closely with Dr. Lou Matthews as Acting Commissioner, as well as other senior members of the department in their ongoing roles.

I also anticipate that the Board of Education, as is their responsibility under the Education Act, will proceed to address the selection of a new Commissioner and make their recommendation to the Public Service Commission in due course.

I'd like to thank Dr. Heatley for the service he has rendered during his tenure, the Board of Education for their diligence over the last few weeks, and particularly the Permanent Secretary, Mr. Webber, for his careful handling of what has been a challenging situation for everyone.

We will continue to move ahead with education reform and the Ministry's responsibility to ensure accountability and performance in the public education system. And I am confident that we will continue to move ahead in the best interests of students and their parents.

Thank you
-
Mr. Webber's full statement follows below:
Today, the Ministry of Education and Economic Development confirmed the resignation of Dr Edmond Heatley from the role of Commissioner of Education.

Dr Heatley will work out a period of notice between now and April 30th while transitioning work duties to Dr Lou Matthews, who will assume the role of Acting Commissioner of Education for the near future.

Dr Matthews will be supported by a team of Directors and Assistant Directors. This team includes, Dr Llewellyn Simmons, Dr Freddie Evans, Ms Laverne Simons, Ms Terry Cox and Ms Chezia Calloway. They are supported by the rest of the staff of the Department of Education.

The last few weeks have been a challenging time for all involved with the Education portfolio.

It is important that Dr Matthews and the entire team in the Department of Education get the backing and support of Education stakeholders, and the whole community, as we move forward with the progression of our Education system.
-
Update 4.44pm: Shadow Education Minister Walton Brown said, "The Progressive Labour Party is pleased that Dr. Edmond Heatley has resigned from the post of Commissioner of Education. Once the facts were disclosed surrounding Dr. Heatley's recent activities, we were concerned at his apparent lack of commitment and long term dedication to the job at hand. In fact, once I learned the facts, I called on him to resign as his position had become untenable.
"We are glad that we can put this situation behind us, and try and get focus back where it belongs – on the education of our children. Too often, these types of distractions serve no one's best interests, and end up delaying progress that is so needed.
"We acknowledge the appointment to Acting Commissioner of Education, of Dr. Lou Matthews, and are confident Dr. Matthews has the skills and abilities required to act in this capacity. We call on the Ministry to move swiftly in their decision to appoint a new Commissioner, or to decide if a Commissioner is actually a necessary role in the top heavy Ministry of Education.
"The Progressive Labour Party has presented our vision for a reformed and realigned Education System, and we have expressed our willingness to work with the governing OBA in bringing this to fruition.
"We hope that the Ministry of Education, the teachers, students and the parents can all move forward together focused on ensuring the best possible education system for our country."
Read More About