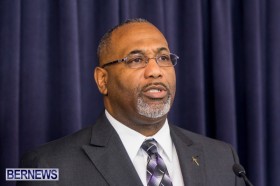 [Updated: Board to meet with Dr. Heatley]
Bermuda's Commissioner of Education Dr. Edmond Heatley has withdrawn his application for the Orleans Parish schools superintendent job in the United States, according to a U.S. news report.
Lousiana's Times Picayune reports that, "Edmond Heatley, education commissioner of Bermuda, has decided he doesn't want to be Orleans Parish schools superintendent after all.
"School Board President Nolan Marshall Jr. said he received word of the decision Monday. Marshall said the superintendent search firm did not give Heatley's reasons for withdrawing."
Dr. Heatley, an American, took up the post in Bermuda in September 2013 and last month it was revealed that he applied for a job as the Orleans Parish schools superintendent in the United States. He is reported to have attended the job interview in Louisiana earlier last month.
Further controversy arose when it appeared that on his application for the job he claimed to have "increased public education approval rates from 23% to 93%" while employed at Bermuda's Ministry of Education.
Shadow Education Minister Walton Brown has called upon Dr. Heatley to resign, while Independent MP Terry Lister previously said that Dr. Heatley should be told to "get cracking".
In response to our queries this weekend after Dr. Heatley's job application was released, the Ministry of Education said that Dr. Heatley applied for the position without the Ministry's knowledge, therefore they cannot "comment on, nor defend, the information contained in his application…"
"We can confirm that Dr Heatley began his employment with the Department of Education in September 2013. Dr Heatley is currently abroad on leave.
"The Ministry will meet with him on his return to Bermuda to discuss his application and the now publicly available information contained therein.
"The Ministry shares the concerns of the public and is resolved to address these matters in the best interests of Bermuda's students."
Update 4.09pm: A spokesperson from the Bermuda Ministry of Education said, "The Permanent Secretary has met with the Commissioner of Education. The Board of Education will also meet with Commissioner today.
"The matter is under active consideration. It is prudent to carefully assess the next steps for the benefit of the education system as a whole."
Read More About